Let's explore the list of the most popular and amazing places to visit in Vietnam. These Vietnam tourist places are simply awe-aspiring; you will love them for sure. Exploring these sites is worthwhile if you want to visit Vietnam in the near future.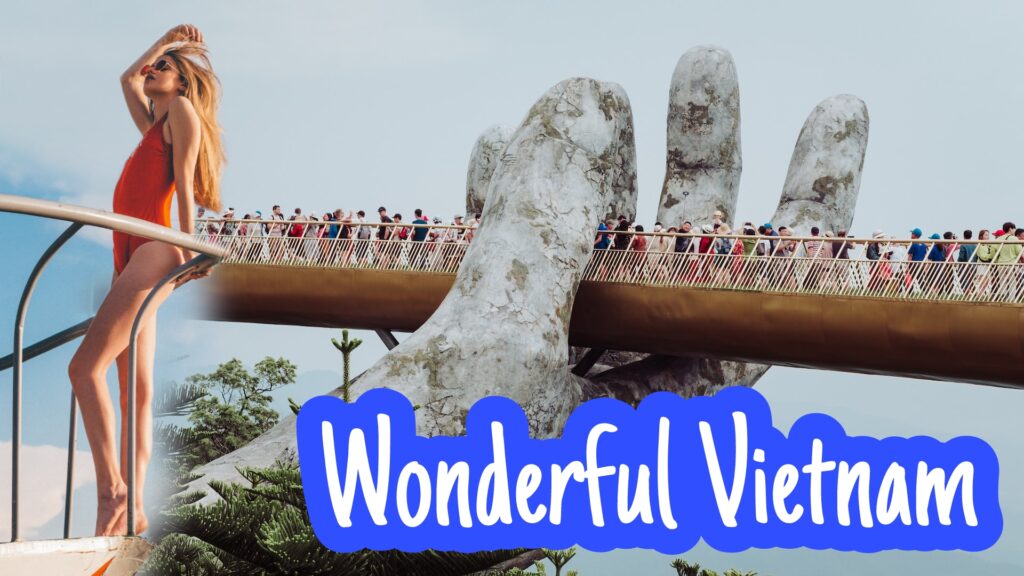 Vietnam is a traveler's delight and one of the most visited countries in the world. The country is popular for many things, from beaches to ancient monuments and busy markets to local delicious dishes. Once you land as a tourist in Vietnam, there is no way you want to leave the country without experiencing each and every corner. You will get cultural diversity, musical festivals, natural highlights, and many more things that are eye-catching.
The most beautiful places to visit in Vietnam are simply spectacular, thanks to its lush green forests, spellbinding waterfalls, historical places, religious sites, and Halong Bay. It is also surprising to see a country as glamorous as Vietnam not creating the buzz it deserves in the international tourism society. Also, know the best time to visit Vietnam.
Many people looking for the most incredible places to visit in Vietnam also want to know the best time to visit Vietnam. Well, that differs according to the weather. Vietnam is full of tourists all year round. However, beach lovers visit in large numbers during summer. In winter, those who love history and culture visit the country.
Top 10 Best Places to Visit in Vietnam
1. Halong Bay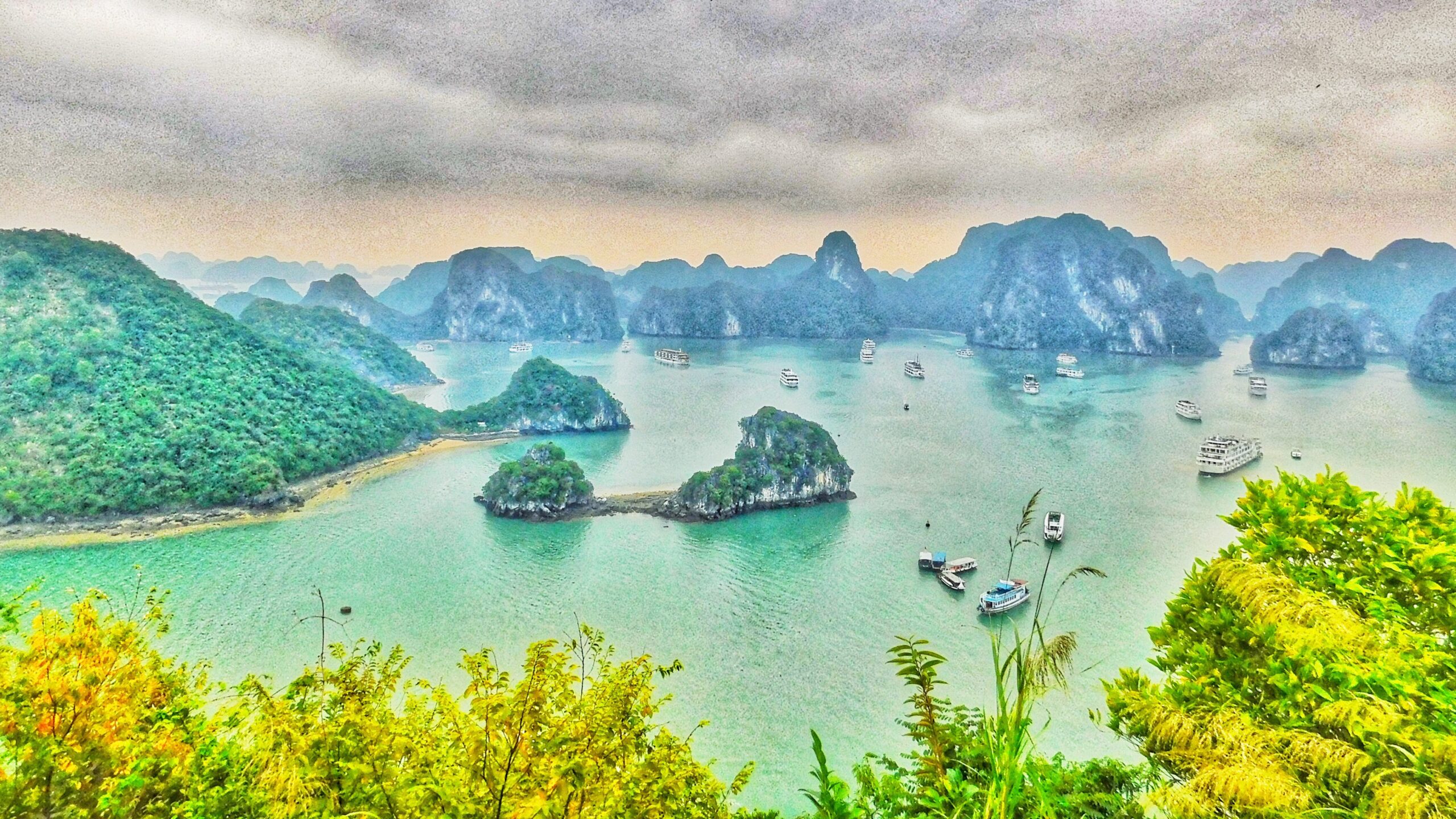 The scenic beauty of Halong Bay is defined by thousands of limestone islands, making it one of the best places to visit in Vietnam and the world. Witness the awe-aspiring karst seascape of Halong Bay, a UNESCO World Heritage Site.
Probably the most popular tourist destination in Vietnam, Halong Bay is one's of nature's biggest gifts to humankind. Hạ Long is a Vietnamese word that means "descending dragon" in English. Most international tourists in Vietnam prefer to explore the bay by cruise, while many think a boat is the best option. You can easily book a cruise for an overnight or multi days tour to see Halong Bay's iconic beauty.
Several watersport options are available at the bay, including Kayaking, snorkeling, and Parasailing. In addition, you can witness several sightseeing places, including many caves on the islands.
2. Hoi An, Da Nang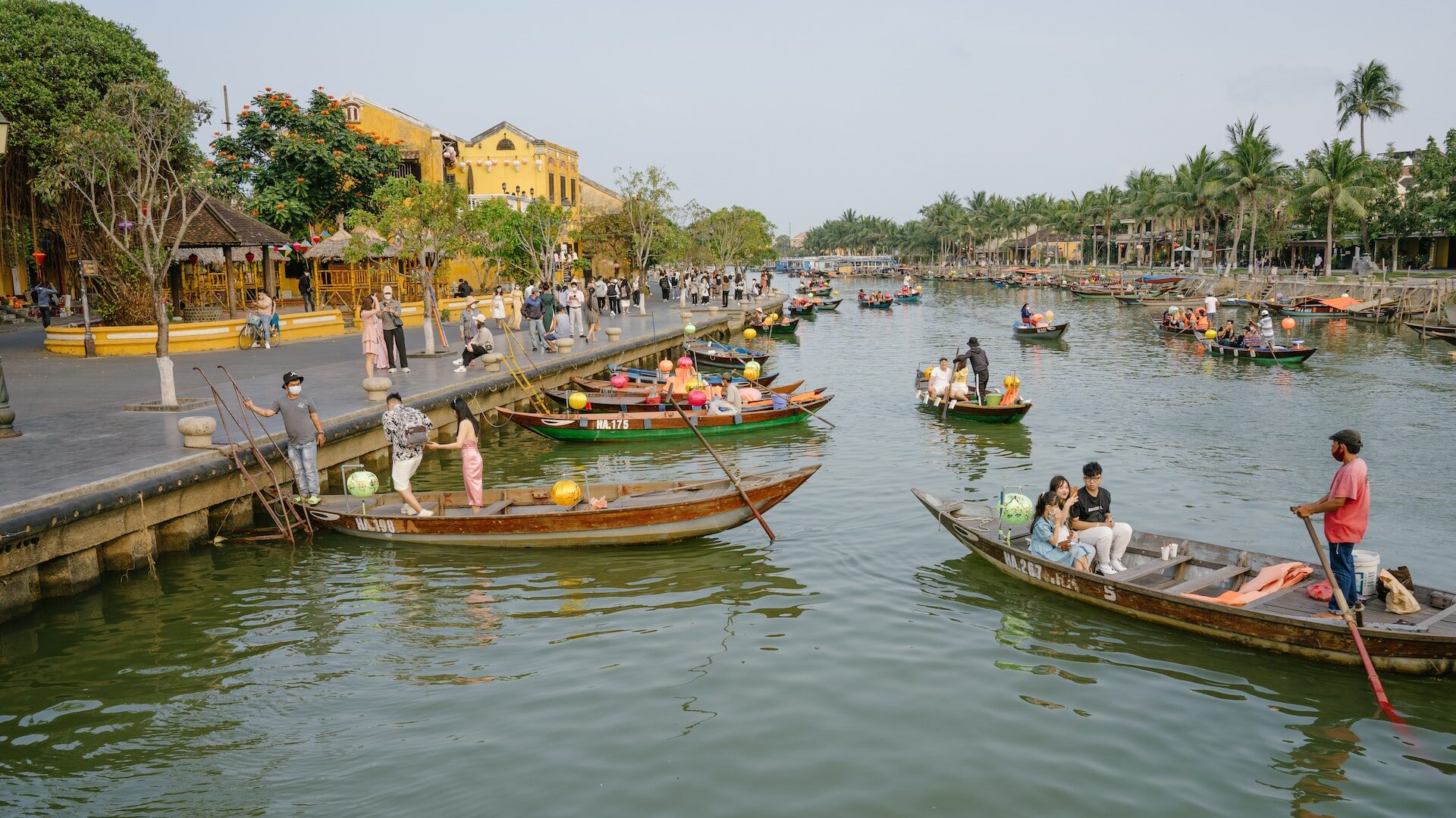 Hoi An is an incredibly amazing place to visit in Vietnam. Located in Quang Nam Province, the ancient town is known for its cultural fragrance. A Unesco World Heritage Site, Hoi An, is about 25 km from Da Nang International Airport. The beauty of Hoi An lies in its fusion of indigenous and foreign cultural impact.
Witness over 1000 well-preserved timber frame buildings, including architectural monuments, pagodas, and other local houses. Night boating in Hoi An is one of the best things to do in Vietnam. While boating, experience the lightening and musical beauty of the town, where you can relish delicious Vietnamese dishes.
However, if you truly want to praise the ancient ambiance of Hoi An, walk around the town and witness Japanese, Chinese, and local buildings.
3. Hanoi
Vietnamese Capital is an exceptionally astonishing mix of Southeast Asian and European cultures, thanks to a large number of foreign tourists in the city, especially in the old own quarter. From Ho Chi Minh's Mausoleum to the Temple of Literature and Hoa Lo Prison Relic to the Imperial Citadel of Thang Long, the city has a lot of things for history lovers. The city is home to some of the best museums in the world worth visiting.
Hanoi is also popular for its scenic lakes, pagodas, and local markets. The markets are quite popular for their night view, especially with lights. You can also see several street musical programs in the city. The beer street is among the most popular places to visit in Hanoi, a city with so many nightclubs and bars. Proper Vietnamese city life is what you can experience here in the capital.
4. Hue
Are you an admirer of history and monuments? Well, there is hardly a better place for you in Vietnam than Hue. Witness multiple brims with relics from the 19th-century Nguyen Dynasty. The Imperial City of Hue, also known as the Complex of Hue Monuments, is a UNESCO-designated site for World Heritage Monument and is among the most popular tourist places in Vietnam.
Some most visited sites in Hue are Inner Court, Imperial City Gates, and Imperial Gardens. In addition, you can experience the serenity of the Perfume River. Many tourists in Vietnam also take a day cruise to see multiple royal tombs and Buddhist temples.
5. Ho Chi Minh City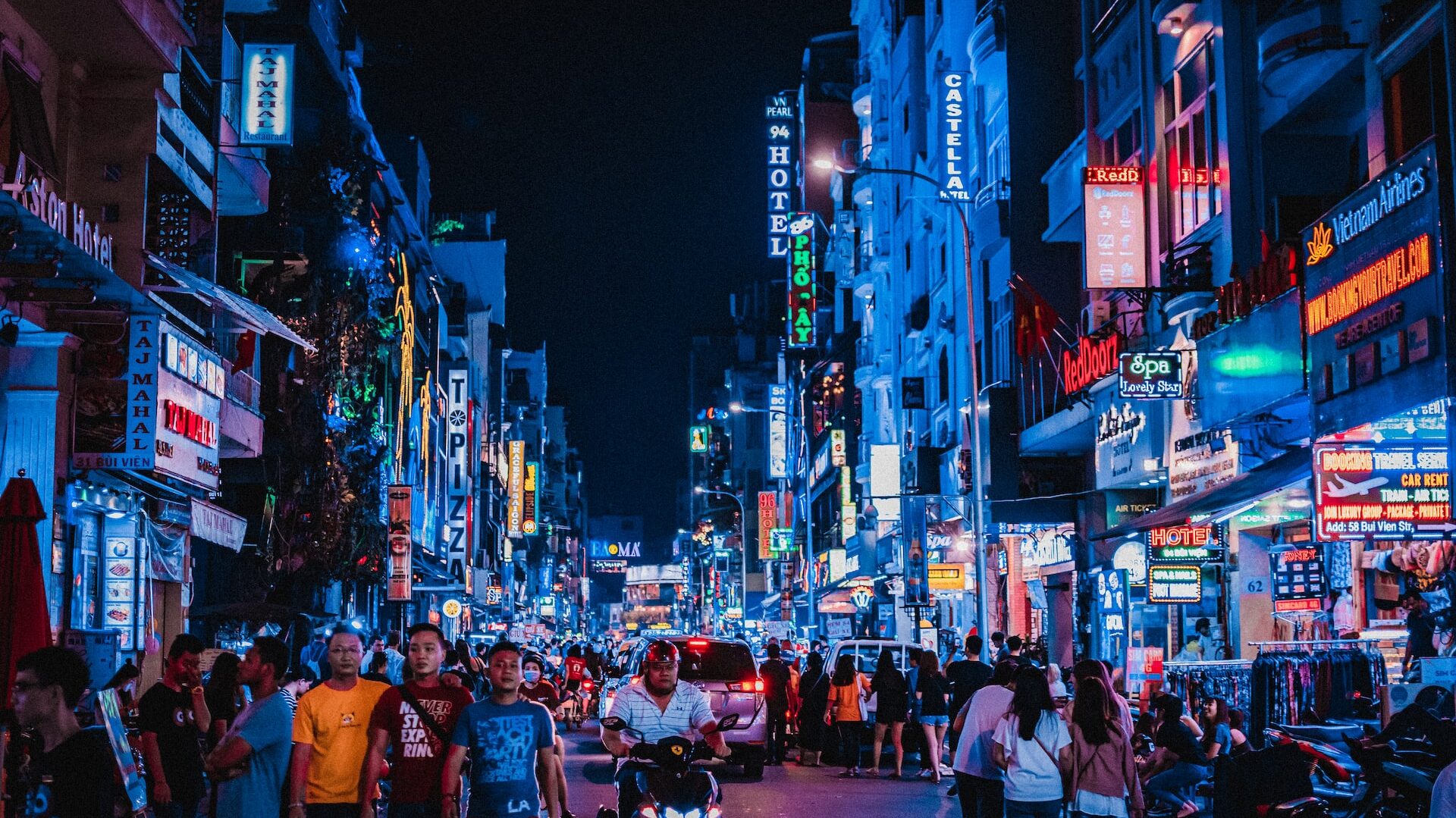 No city in Vietnam has as many stories as Ho Chi Minh City has. It is the country's commercial hub, historical center, and site of many Buddhist pagodas. It lies in the country's southern part, which has witnessed most wartime. If you love to know about Vietnam's war of Independence from France and the Vietnam-America War (1955-1975), HCMC is probably the best place to be in.
The War Remnants Museum, Cu Chi Tunnel, Reunification Palace, Ho Chi Minh City Opera House, etc., are some of the most touristic places in the city. Saigon is counted among the most sought-after tourist places to visit in Vietnam. In addition, the city is home to several French-style buildings, displaying the colonial history of Vietnam. Many tourists also choose to visit the Mekong River Delta from HCMC.
6. Dalat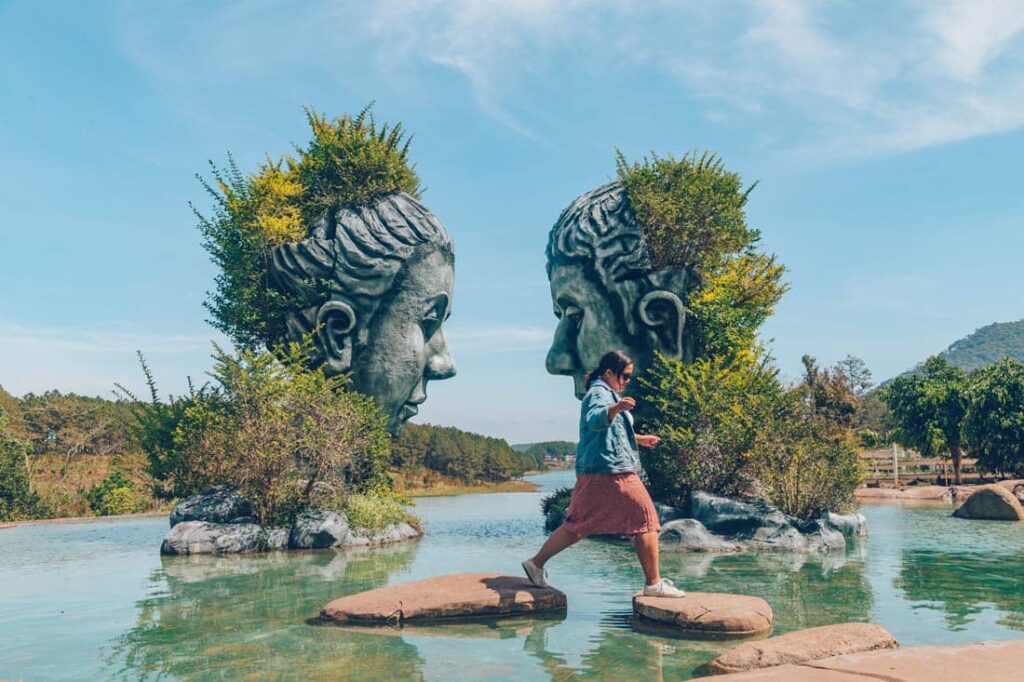 About 300 km from Ho Chi Minh City, Dalat is a natural delight and a beautiful holiday destination for couples and solo travelers. All you feel is complete peacefulness and the gentle sound of breezes in Dalat, which is also a great trekking destination. Many tourists intending to explore the north stay in Dalat to refresh themselves before vising places like Hoi An and Hanoi.
Dalat is a must-visit place to visit for a honeymoon. The natural beauty of this place, embellished by Datanla Waterfall, Valley of Love, Xuan Huong Lake, and Tuyen Lan Lake, makes one's visit completely worthwhile. Linh Phuoc Pagoda and the Crazy House are two other amazing places to visit for tourists in Vietnam.
7. Sapa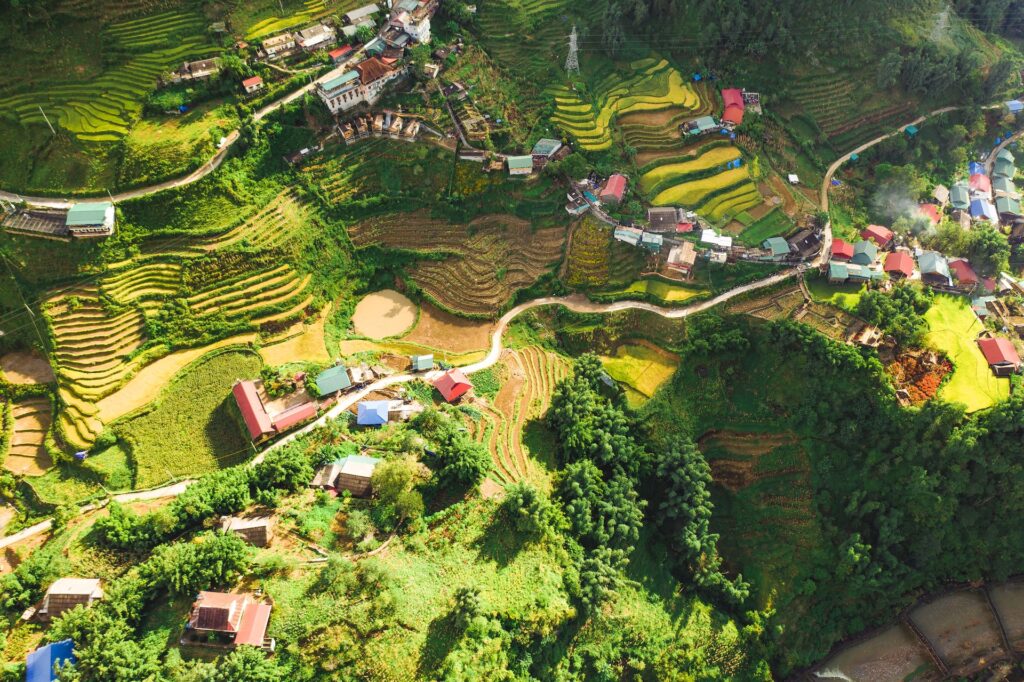 The hilly town of Sapa is one of the best places to visit in Vietnam. It is an extremely popular tourist site, thanks to its proximity to Hanoi, from where you get multiple buses to witness the spellbinding countryside. Thousands of foreign travelers visit Sapa in search of the purest form of the Vietnamese lifestyle. The verdant rice field overlooking Hoang Lien Mountains looks immensely astonishing.
Sapa is also one of Vietnam's trekking destinations, with hundreds of people enjoying the natural sights on foot. Sapa is also home to several ethnic minorities, including the Hmong, Giay, and Red Dzao. For a completely delightful experience, you should spend at least 3-4 days in Sapa. From there, you can visit several other places in the north, including Lao Cai, Ha Giant, and Pac Bo Cave.
8. Phu Quoc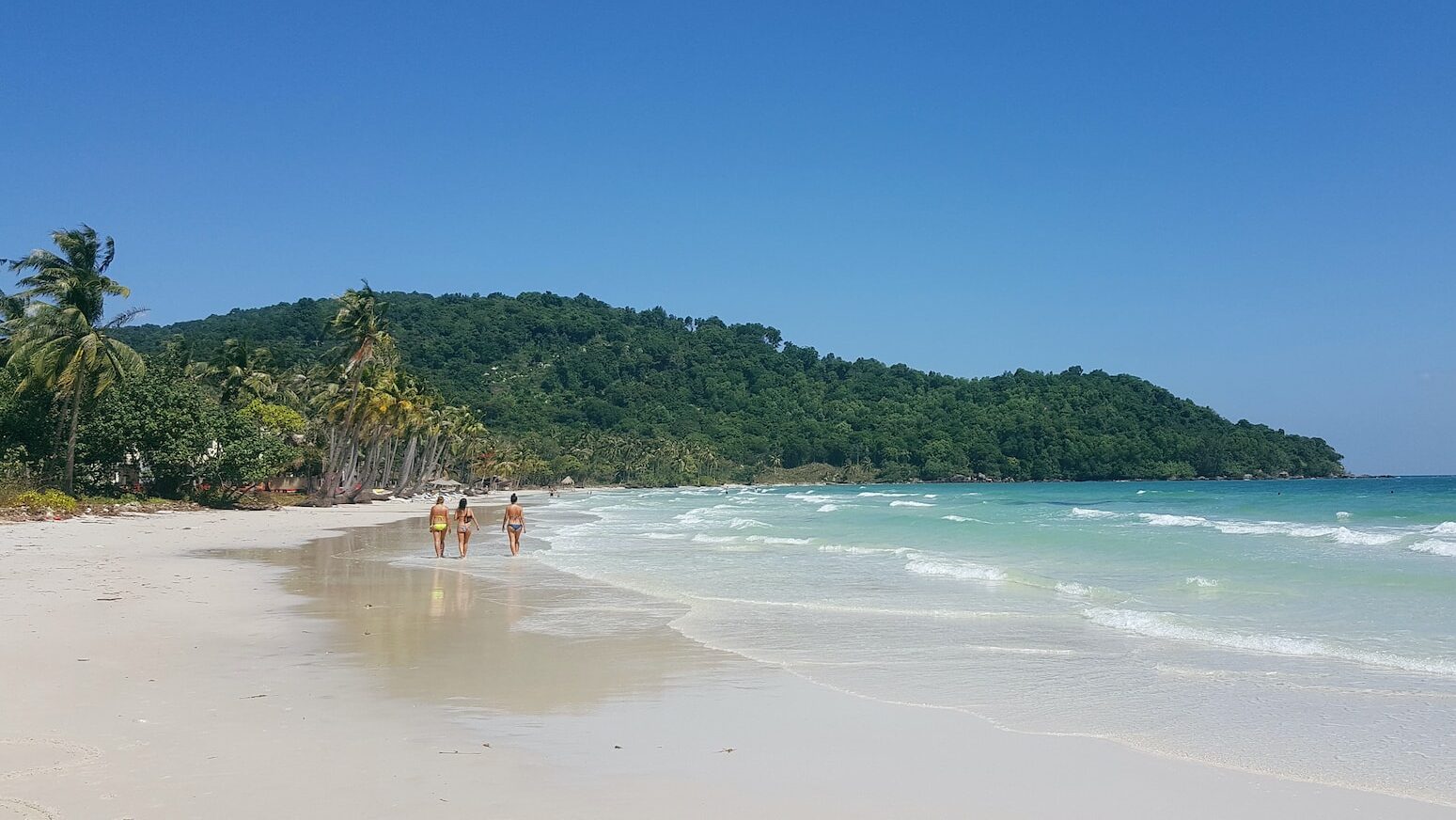 Phu Quoc is pretty as a picture, thanks to the beaches, woods, and culture. It attracts thousands of international tourists every year, especially during the winter season. One of the most beautiful places to visit in Vietnam, Phu Quoc Island is known for its white-sand beaches that are immensely popular among sunseekers. Several tourists in Vietnam also choose to explore the best beaches of India and other Asian countries after completing their Vietnamese trip.
There are a number of water sports opportunities for travelers, including snorkeling, skydiving, and kayaking. Boat excursion to An Thoi Islands is also preferred by many who wish to dive deep into the natural delight of Phu Quoc. Off the beach, you can get acquainted with the dense rainforest of the region that pleases everyone visiting the island.
Phu Quoc Island lies west of Ho Chi Minh City and south of Cambodian waters in the Gulf of Thailand. Tourists in Vietnam can fly directly to Phu Quoc from any city in the country or take a ferry from Ha Tien to reach this beautiful island.
9. My Son Temple
Probably the most wonderful site to visit in Vietnam for history lovers, My Son Temple is a world cultural heritage. This sanctuary houses several ruins of several Hindu temples from more than 1000 years ago. These temples are dedicated to Lord Shiva and were constructed between the 4th and 14th centuries by Champa kings. Although the US bombing destroyed a large part of the architecture during the Vietnam war, visitors can still get glimpses of the ancient temple, including multiple Hindu deities.
Recognized as a World Heritage Site by UNESCO in 1999, My Son is a must-visit place in Vietnam, especially if you are in Da Nang and Hoi An. You can reach in just 90 minutes if you hire a taxi or ride a bike from Da Nang. The architectural beauty of My Son Sanctuary will surely attract your attention. The place is also a great way to learn a lot about the Hindu kingdoms and their influence in the South East Asian region.
10. Ba Be National Park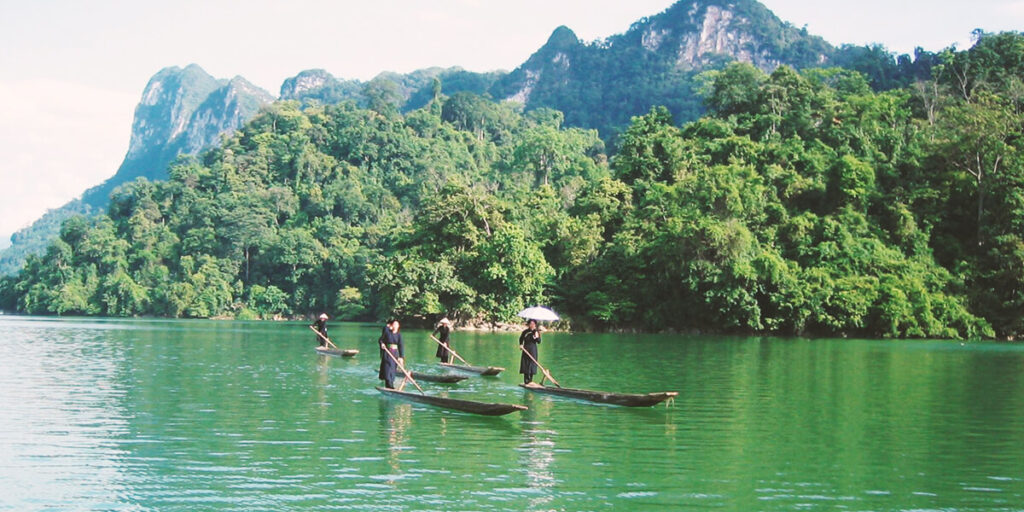 Lush tropical foliage, karst peaks, and boating in the Ba Be Lake. Imagine the delightful experience one has while praising the natural beauty of Ba Be National Park. The surrounding limestone gives a fantastic experience to visitors. Away from the city crown, this place gives a tranquil touch to travelers expecting a unique experience in Vietnam.
One of the most popular things in Da Be is sleeping in the traditional stilt house by the lakeshore. This will give you a complete countryside experience in Vietnam. You can also kayak and enjoy a boat ride in the lake. Meeting several ethnic minority people while hiking and trekking through the hills gives a different experience to travelers.
These are the ten best places to visit in Vietnam, as per my recent visit to the South East Asian country. I might have missed some names, since I could not cover the whole country in a 3-week trip. If you think other places should be on the list, do not hesitate to recommend your best places to visit in Vietnam on our social media handles. And if you plan to explore other beautiful countries, you can look at these best places to visit in India and the most amazing tourist places in South Africa.
Keep visiting The Ganga Times for such beautiful articles. Follow us on Facebook, Twitter, Instagram, and Koo for regular updates.