Indore is the most populous city in the Indian state of Madhya Pradesh. The Indore Metro project aims to enhance connectivity and transportation in the town, benefiting residents and visitors alike.
Indore is one of the first 20 smart cities to be constructed in India. Indore, a prominent Indian tourist destination, enchants visitors with its captivating blend of natural beauty, rich historical landmarks, and many enchanting attractions. Nestled in the heart of Madhya Pradesh, this vibrant city boasts picturesque landscapes, including lush gardens and serene lakes that provide a tranquil escape.
Its historical significance is evident through the magnificent architecture of palaces and temples, reflecting the grandeur of its past. Indore's cultural diversity, vibrant markets, and delectable cuisine add to the allure, making it a must-visit destination for travellers seeking an immersive experience in India's history, culture, and natural splendour.
Indore is well-connected through multiple transportation modes. Devi Ahilyabai Holkar International Airport, located approximately 8 km from the city center, serves as the primary air gateway. The city boasts an A-1 grade railway station, Indore Junction, which falls under the Ratlam Division of the Western Railways network. Additionally, Indore enjoys robust road connectivity, with access to National and State highways, facilitating travel to various parts of India.
Indore Metro Map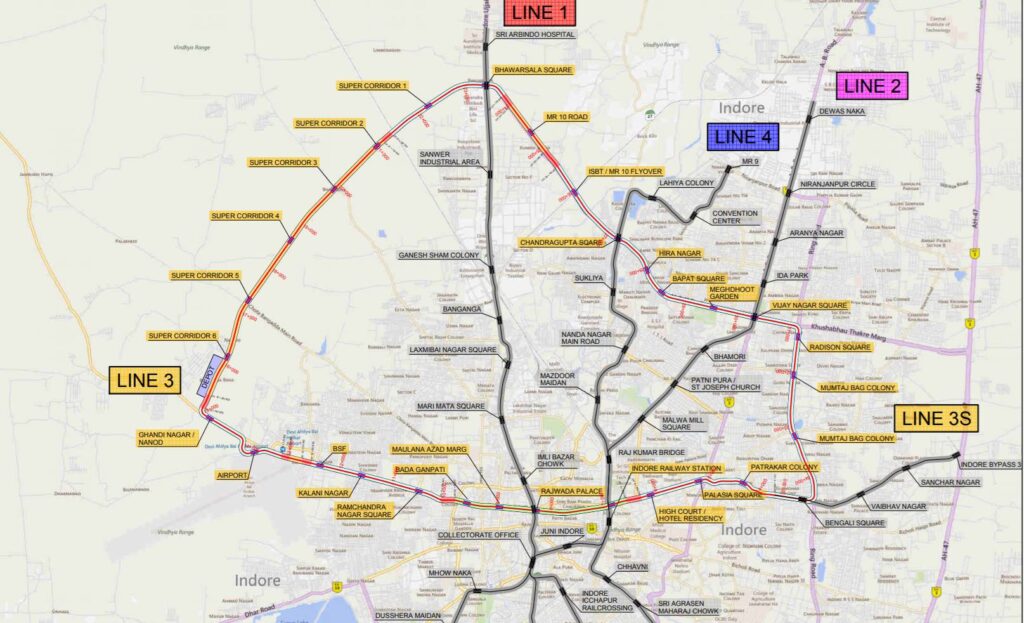 The Map of Metro in Indore has been meticulously crafted to encompass the broadest possible area within Indore. This design ensures extensive metro coverage throughout the city, enhancing accessibility and convenience for residents and visitors alike.
List of Indore Metro Route
Line-1A: Sri Aurobindo Hospital – Collectorate office – Indore Bypass 1
Line-1B: Sri Aurobindo Hospital – Collectorate office – Regional Park (1B)
Line-2: Dewas Naka – Juni Indore – MHOW
Line-4: MR9 – Indore Railway Station – Indore Bypass 4
The Indore Metro route project is estimated to have a budget exceeding INR 12,000 crore. Calculated at INR 182 crore per kilometre, the total projected cost reaches INR 15,000 crore.
Indore Metro Status
The most recent update on the Indore Metro project indicates that the train trial run will start next week. Impressively, Indore Metro is ahead of schedule, and there is a possibility it may become operational six months earlier than initially planned.
Indore Metro Station Name List
Bhawarsala Square
MR 10 Road
ISBT / MR 10 Flyover
Chandragupta Square
Hira Nagar
Bapat Square
Meghdoot Garden
Vijay Nagar Square
Radisson Square
Mumtaj Bag Colony 1
Mumtaj Bag Colony 2
Bengali Square
Patrakar Colony
Palasia Square
High Court / Hotel Residency
Indore Railway Station
Rajwada Palace
Maulana Azad Marg
Bada Ganpati
Ramchandra Nagar Square
Kalani Nagar
BSF
Airport
Gandhi Nagar Nanod
Super Corridor 6
Super Corridor 5
Super Corridor 4
Super Corridor 3
Super Corridor 2
Super Corridor 1
Indore Metro Ticket Price
The distance will determine the ticket pricing for Indore Metro travelled and the number of stations covered during the journey. According to reliable sources, the minimum fare for Metro in Indore ticket will start at 12 rupees, while the maximum will be capped at 45 rupees. This pricing positions the metro fare as more expensive than bus fares but more affordable than taxi fares.
When Will Indore Metro Start?
The Indore metro train trail runs is going to start next week. After the successful metro trail run, the final date will be announced. According to the sources, Indore Metro will begin for the public in July 2024.
Keep visiting The Ganga Times for such beautiful articles. Follow us on Google News, Facebook, Twitter, Instagram, and Koo for regular updates.