Prime Minister Narendra Modi on Friday flagged off the world's longest river cruise, MV Ganga Vilas, which will travel a distance of 3200 km from Varanasi to Dibrugarh via Bangladesh.
Over 51 days, the MV Ganga Vilas will traverse through 27 different river systems in five states in India and Bangladesh, covering a distance of 3,200km between Varanasi and Dibrugarh. Speaking at the event through video conferencing, PM Modi said: "The beginning of the world's longest river cruise service on river Ganga is a landmark moment. It will herald a new age of tourism in India."
MV Ganga Vilas Ticket Price
The Ship's total capacity has to carry 36 passengers simultaneously apart from their staff. There will always be around 15 to 20 staff on the Ship to serve the guests. The ticket price for this Ganga Vilas cruise per day will be about ₹24,000 to ₹51,000. The total cost for the entire trip will be around ₹21 lahks for each passenger for 51 days of the journey, covering 50 tourist destinations in different states.
MV Ganga Vilas Booking
If you are planning to book the MV Ganga Vilas, then it's not available for booking now because a Switzerland company has booked all tickets. Antara Luxury River Cruises offers international cruises. Tickets can be booked from their website once it gets available for booking. According to the sources, the next booking will open in September 2023. If any travel agent or company claims they can book a ticket for you, then be aware of fraud. We will also update you once the MV Ganga Vilas booking starts.
MV Ganga Vilas Route Maps
The cruise will cover 50 tourist destinations, including world heritage sites, national parks, river ghats and major cities like Patna in Bihar, Shahiganj in Jharkhand, Kolkata in West Bengal, Dhaka in Bangladesh and Guwahati in Assam. The cruise will start from Varanasi and then travel to Patna, Sahibganj, Kolkata, Dhaka, Guwahati and Dibrugarh.
From Patna, the ship will take 12 days to reach West Bengal's capital Kolkata on Day 20. The very next day, it will sail into a different country, Bangladesh. Passengers will stay in the neighbouring country for 15 days before entering India again to reach Bogibeel in Dibrugarh.
MV Ganga Vilas Features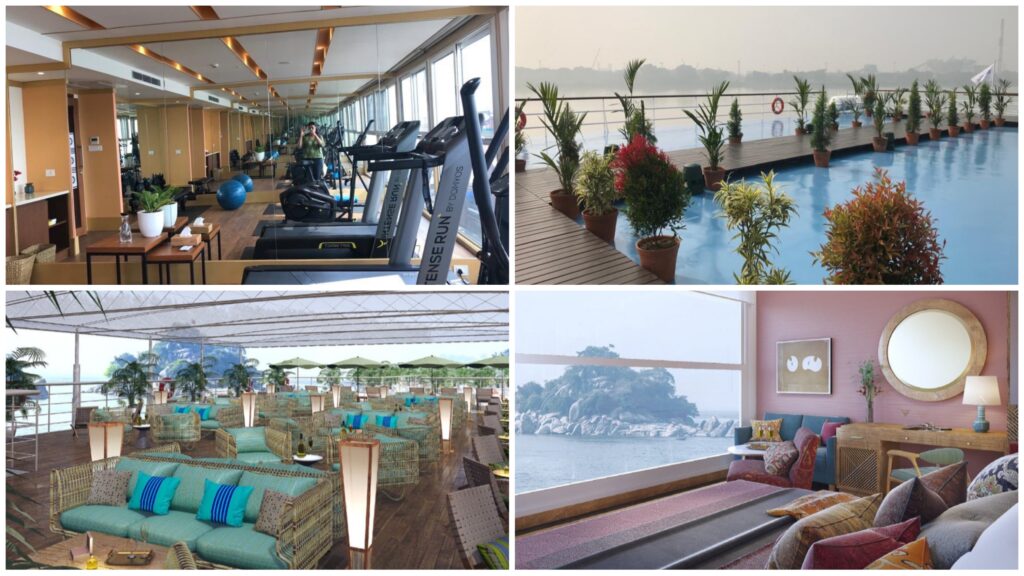 The MV Ganga Vilas vessel is 62 metres in length, 12 metres in width and comfortably sails with a draft of 1.4 metres. This five-star moving hotel has 18 suites with a capacity of 36 tourists, the cruise's director has said, adding that it has accommodation for 40 crew members. The cruise has been fitted with modern facilities like a spa, salon, and gym.
It is also equipped with a pollution-free system and noise control technology. According to CNN Traveller, the large floor-to-ceiling windows will allow passengers onboard to enjoy the beauty of the river throughout the day. A panoramic lounge, an observation pavilion and a dining room will enhance the travelling experience for travellers.
Keep visiting The Ganga Times for such beautiful articles. Follow us on Facebook, Twitter, Instagram, and Koo for regular updates.