October 2023 is set to deliver a lineup of much-anticipated film releases. Check out the five must-watch Bollywood movies releasing in October 2023.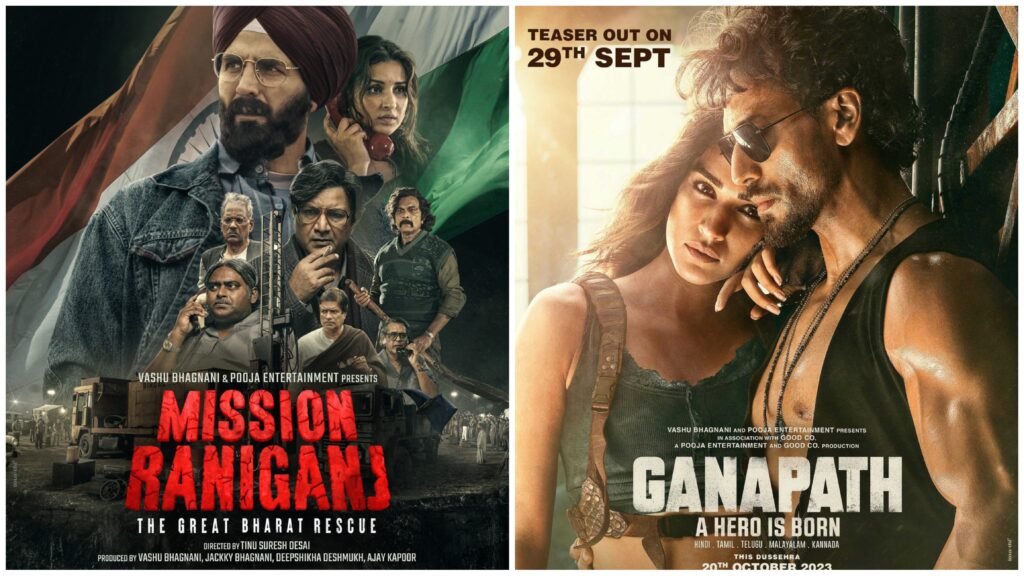 In October 2023, many exciting movies are coming out that lots of people have been looking forward to. We've made a big list of these movies with all the important information you need before you go watch them in the theatres or on streaming services. Check out the list and remember the date of the movie you want to see the most.
List of 5 Must Watch Bollywood Movies Releasing in October 2023
1. Ganapath
"Ganapath: A Hero is Born" is an eagerly awaited Indian Hindi-language dystopian action film directed by Vikas Bahl and produced by Good Co, along with Jackky Bhagnani, Vashu Bhagnani, and Deepshikha Deshmukh of Pooja Entertainment. Leading the cast is Tiger Shroff, alongside Amitabh Bachchan and Kriti Sanon.
Announced in November 2020, the film underwent extensive pre-production before commencing principal photography in November 2021, concluding in February 2023. Filming locations included the United Kingdom, Ladakh, and Mumbai. With an impressive budget of ₹200 crore, "Ganapath" was initially slated for December 2022 but was rescheduled. It is now set for a grand theatrical release on October 20, 2023, coinciding with Dussehra.
2. Mission Raniganj
Mission Raniganj: The Great Bharat Rescue" is an upcoming Hindi-language survival thriller film directed by Tinu Suresh Desai and produced by Pooja Entertainment. The screenplay, penned by Vipul K Rawal, draws inspiration from the tragic Raniganj Coalfields collapse of 1989 in West Bengal. The movie stars Akshay Kumar and Parineeti Chopra.
Principal photography began in July 2022 and concluded in August 2023, including a song sequence, followed by post-production efforts. The film is slated for release on October 6, 2023. It centers on the heroic actions of Jaswant Singh Gill, an accomplished mining engineer from IIT Dhanbad, who rescued 65 miners trapped during the Raniganj Coalfields incident in 1989.
3. Thank You For Coming
"Thank You for Coming" is a 2023 Indian Hindi-language sex comedy film directed by Karan Boolani and produced by Rhea Kapoor and Ekta Kapoor. The movie boasts a star-studded cast including Bhumi Pednekar, Shehnaaz Gill, Dolly Singh, Kusha Kapila, and Shibani Bedi in lead roles.
It had its premiere at the 46th Toronto International Film Festival (TIFF) in the Gala Presentations section on September 15, 2023, and is scheduled for a theatrical release on October 6, 2023. The film features Bhumi Pednekar as Kanika Kapoor, Shehnaaz Gill as Rushi Kalra, and Dolly Singh as Pallavi Khanna, among other notable appearances.
4. Tejas
The Indian Air Force (IAF) has made history by being the first of India's defence forces to integrate women into combat roles. The film "Tejas," set in 2016 when this momentous decision was enacted, centres around a fearless female fighter pilot. Kangana Ranaut, portraying the lead character, dedicated four months to intensive training to master the specialized combat techniques used in the armed forces. T
his marks her first role as a soldier on the silver screen. Ranaut expressed, "Tejas is a film where I have the honour of playing the role of one such Air Force pilot who prioritizes the nation over herself. I hope we instil a sense of patriotism and pride in today's youth with this movie. I'm eagerly anticipating the journey with Sarvesh and Ronnie."
5. Dono
"Dono" is an upcoming Indian Hindi-language romantic drama film slated for release on October 5, 2023. Directed by Avnish S. Barjatya, son of Sooraj R. Barjatya, and co-written by Avnish S. Barjatya and Manu Sharma, it is a joint production of Rajshri Productions and Jio Studios. The movie introduces newcomers Rajveer Deol and Paloma Dhillon in the lead roles.
The story revolves around Dev and Meghna, strangers who meet at an extravagant destination wedding. As their relationship unfolds, the film explores their journey. The cast includes Rajveer Deol as Dev, Paloma Dhillon as Meghna, Kanikka Kapur as Alina, Rohan Khurana, Aditya Nanda, Manik Papneja, and Poojan Chhabra as Vilas Kothari.
Keep visiting The Ganga Times for such beautiful articles. Follow us on Google News, Facebook, Twitter, Instagram, and Koo for regular updates.