Get all information about Institute of Public Health and Hygiene Admission, IPHH Programmes, IPHH Reviews, IPHH campus facilities, etc. Know how the college will cater to you and shape your future in the field of health sciences.
Institute of Public Health and Hygiene (IPH&H) is one of the premier institutes in India, dedicated to allied health sciences. IPHH is popular for its Undergraduate and Post graduate Certificates, Diplomas and Degree for students interested in health studies. Started with a very humble beginning, it is a premiere and oldest Paramedical and Allied Health Education Institute of the country today, backed with a legacy of 45 years of proven record.
Institute of Public Health and Hygiene (IPHH) was established in July 1976 by (Late) Dr. Shyam Sunder Joshi, whose visionary ideals led him to envision and create an Institution that was inclusive and opened its doors to the world. Since its inception, the Institute has been imparting life skill training in healthcare sector to create employability skills among the youth; especially the underprivileged and drop outs so that they can be groomed as force of transformation of the nation by skill building while ensuring their livelihood and a lucrative career option in healthcare industry.
| | |
| --- | --- |
| Location | Institute of Public Health & Hygiene, RZ-A-44 Mahipalpur Ext., New Delhi – 110037 (India) |
| Contact Details | +91- 011 – 26786846, +91 – 9811817972 (For Admission) |
| Campus | Urban |
| Website | http://iphhparamedic.in |
| Courses Offered | B.Sc, B.Sc Optometry, M.Sc, Diploma, Certification Courses |
| Accredited to | NAAC |
Institute of Public Health and Hygiene IPHH Admission
All admission related queries are looked after by the college management. For information about the admission process, kindly click on this link.
Let's talk about some of the key departments of IPHH College.
The School of Nursing
Institute of Public Health and Hygiene School of Nursing was established with an aim to cater team of trained and skilled workforce to healthcare system of the country. Backed by a legacy of 40 years and rich experience in imparting healthcare education, the institute has entered with a humble beginning in the field of nursing education and confident of stretching its wings in this arena in times to come.
Department of Radiology
Radiology has been an invincible tool and integrated part of Health Care Delivery System. Keeping in view the rising importance of Radiology, The Institute has established Center of Excellence in Radiology which is equipped with adequate no. of Latest X-ray machines.
Institute of Public Health and Hygiene- IPHH Fee Structure
| COURSE | FEES | ELIGIBILITY |
| --- | --- | --- |
| Diploma | ₹39,025 (Total Fee) | 10 + 2 |
| Certification | ₹36,025 (Total Fee) | 10 + 2 |
| B.Sc | ₹64,000 (1st Year Fee) | 10+ 2 |
| B.Sc Optometry | ₹64,000 (1st Year Fee) | 10+ 2 |
Medium of Instructions & Examination at IPHH College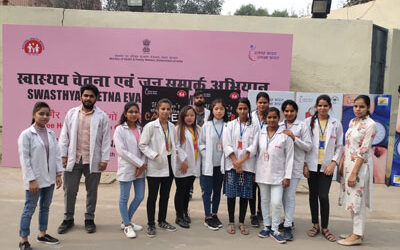 The medium of instructions is 70% English and 30% Hindi at New Delhi Center. Hindi Translate of English Speeches/Lectures Books/Notes or Vice-versa will not be supplied. Hence, the candidate must have sufficient knowledge of spoken Hindi & English. All the Books/Lecture Notes, etc. are available in English only. However, the candidates are advised to refer Book, Lecture Notes, etc. available in Hindi and in some other Regional Languages in the Library of the Institute.
Industry Tie-ups of IPHH College Delhi
To bridge the gap between the training and the employment of the students, IPH&H has initiated tie-ups with several actors in the industry to create workforce in requirement to industry needs and to provide our students with a fulfilling growth opportunity in their careers.
Transport Services at IPHH College
The Institute is well connected by many DTC Buses and METRO routes. For the students travelling from different parts of Delhi & NCR . The Institute is providing transport facility from Chatterpur, Dwarka , Dhaula Kuan and Aero City/Mahipalpur Metro Stations. The Student shall have to pay nominal charges per month to avail this service.
Rate and review FIMT college below. Tell us your opinion about the Institute of Public Health and Hygiene (IPHH) in the comment section.
Click to rate this post!