Here is the list of The top 10 greatest football players in history who have dazzled the world with their extraordinary skills and achievements. From Pelé to Messi, these legends have defined the sport and left an enduring legacy.
Introduction
Football, often referred to as the "beautiful game," has produced an array of extraordinary talents throughout its rich history. From Pele to Messi, these football legends have left an indelible mark on the sport. Determining the top 10 football players of all time is no easy task, as it involves comparing talents from different eras and considering various aspects of their careers. However, these 10 football icons have consistently been acknowledged as some of the greatest players to have ever graced the pitch.
Pelé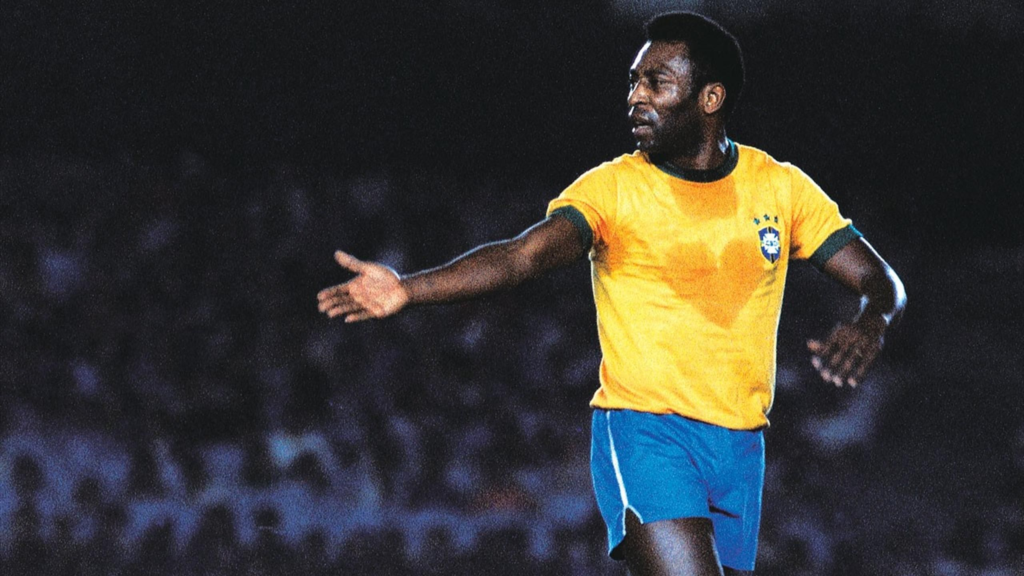 Pele, whose full name is Edson Arantes do Nascimento, is widely regarded as one of the greatest football (soccer) players in history. Born in Brazil in 1940, he rose to international fame for his remarkable skills, incredible goal-scoring ability, and charismatic personality. Pele played a crucial role in Brazil's World Cup victories in 1958, 1962, and 1970, becoming the only player to achieve three World Cup titles. His agility, creativity, and sportsmanship on the field earned him the nickname "The King of Football." Beyond his sporting achievements, Pele's positive impact extends to various humanitarian efforts and his role as a global ambassador for the sport, making him an iconic figure both on and off the pitch.
Diego Maradona
Diego Maradona, often hailed as one of the greatest footballers of all time, was an Argentine icon whose name is synonymous with brilliance on the pitch. Born on October 30, 1960, in Villa Fiorito, Argentina, Maradona's remarkable career included stints with clubs like Barcelona and Napoli, but it was his performances on the international stage that truly solidified his legend. He led Argentina to victory in the 1986 FIFA World Cup, leaving an indelible mark with his infamous "Hand of God" goal and the "Goal of the Century" against England. Maradona's incredible dribbling skills, vision, and passion for the game continue to inspire aspiring footballers worldwide, making him a beloved and enduring figure in the sport's history. His untimely passing in November 2020 marked the end of an era, but his legacy lives on as a footballing deity.
Lionel Messi
Lionel Messi, often regarded as one of the greatest footballers of all time, is a name synonymous with excellence on the pitch. Born in Rosario, Argentina, in 1987, Messi's remarkable career has been defined by his exceptional dribbling skills, pinpoint accuracy, and goal-scoring prowess. For over a decade, he dominated the football world with FC Barcelona, where he won numerous titles, including multiple Ballon d'Or awards. In 2021, Messi made a sensational move to Paris Saint-Germain (PSG) after leaving Barcelona due to financial constraints and recently in 2023 he moved to Major Soccer League(MLS) to play for Inter Miami. His impact on and off the field extends beyond his extraordinary talent, as he is admired for his humility and sportsmanship. Messi's journey continues to inspire aspiring footballers and fans worldwide.
Cristiano Ronaldo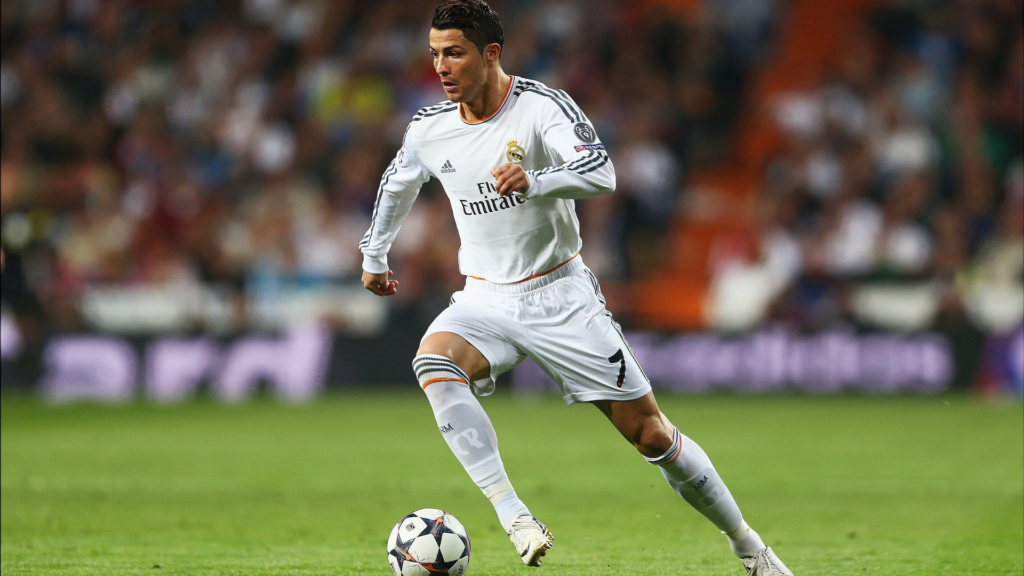 Cristiano Ronaldo, often referred to as one of the greatest footballers of all time, is a Portuguese sensation who has left an indelible mark on the world of soccer. Born on February 5, 1985, in Funchal, Madeira, Ronaldo's remarkable career has seen him dominate the sport with his extraordinary skill, incredible athleticism, and a relentless work ethic. He has achieved success at the highest levels, playing for renowned clubs like Manchester United, Real Madrid, Juventus, returning to Manchester United in 2021 and a revolutionary move to Saudi Arabia League to play for Al Nassr. With numerous individual awards, including multiple Ballon d'Or titles, Ronaldo's prolific goal-scoring ability, versatility, and leadership have made him an icon, inspiring a generation of football fans worldwide.
Johan Cruyff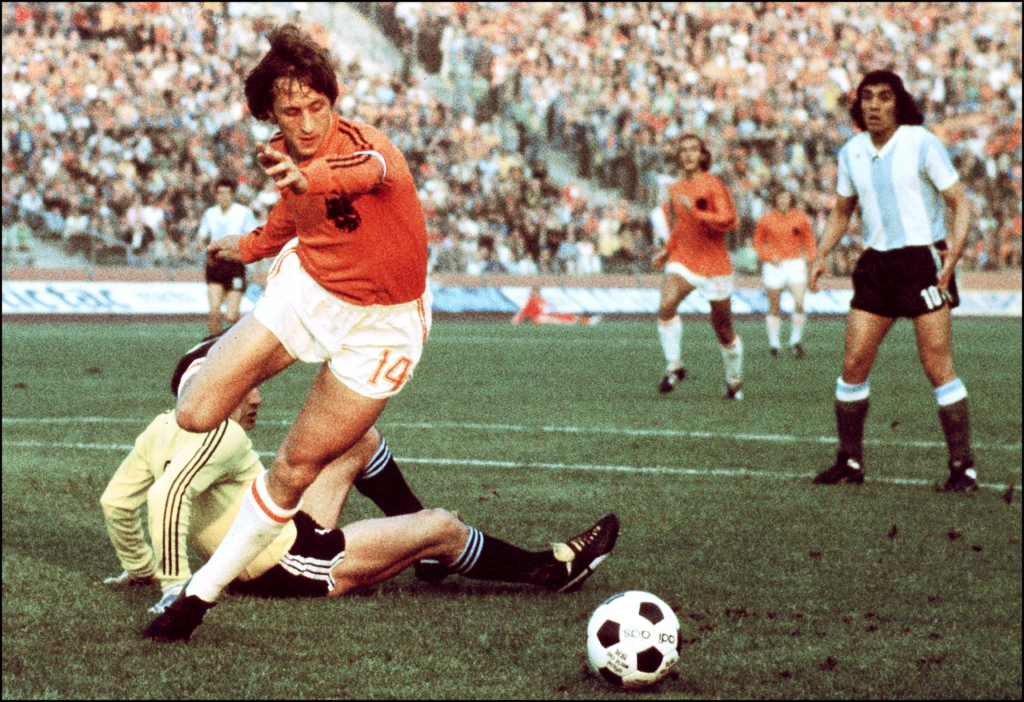 Johan Cruyff was the pioneer of 'Total Football,' a style of play that emphasized fluid movement and versatility. The Dutch maestro was known for his exceptional vision and ability to read the game. He inspired a generation of players and coaches and had successful spells as both a player and manager.
Alfredo Di Stéfano
Alfredo Di Stéfano, often considered one of the most complete footballers ever, played a pivotal role in Real Madrid's domination of European football in the 1950s. His versatility, intelligence, and leadership on the pitch made him a legend of the game.
Franz Beckenbauer
Franz Beckenbauer, also known as "The Kaiser," was a versatile defender who could influence games with his passing and composure on the ball. The German icon won the World Cup as both a player and manager and is celebrated for his contributions to the sport.
Zinedine Zidane
Zinedine Zidane's elegance and grace on the pitch were truly remarkable. The French playmaker possessed incredible ball control, vision, and technique. His performances in the 1998 World Cup and his success with Real Madrid highlight his place in football history.
George Best
George Best, a Northern Irish winger, was renowned for his dribbling skills and flair. Although his career was plagued by personal issues, his impact on the field was undeniable. Best remains an enduring symbol of footballing brilliance.
Ferenc Puskás
Ferenc Puskás was the star of the Hungarian "Golden Team" in the 1950s and later played a pivotal role for Real Madrid. His prolific goal-scoring record and precise left foot earned him the nickname "The Galloping Major."
Special Mentions
In addition to the top 10 football players mentioned above, it's important to give special mentions to several other legendary figures who have significantly contributed to the sport's history. Players like Eusébio, Ronaldo Nazário, Paolo Maldini, Lev Yashin, and many more have left an enduring impact on football. These exceptional talents have played a vital role in shaping the beautiful game and deserve recognition alongside our top 10. Football's history is a tapestry woven with the brilliance of countless individuals who have enriched the sport and ignited the passion of fans worldwide.
Keep visiting The Ganga Times for such beautiful articles. Follow us on Google News, Facebook, Twitter, Instagram, and Koo for regular updates.