Koo App is being promoted as an alternative to Twitter by various top ministers including Piyush Goyal and Ravishankar Prasad. If successful, Koo will be the first indian social media platform of prominence. In this article, we will try to cover every questions of yours including Koo App owner and Koo App founder.
The Ganga Times, Tech News: Koo is a micro-blogging platform that is widely promoted as an India-made Twitter. Launched about an year ago, Koo App has got a massive spike in downloads on Google Play Store and Apple App Store. It is also an alternative app to Twitter built for Indians. The app has won the AatmaNirbhar innovation challenge last year.
Who are the Koo App founders and owners
The Indian social media platform is developed by two desi entrepreneurs — Aprameya Radhakrishna and Mayank Bidawatka in March 2020. Radhakrishna is known for founding TaxiForSure — an online cab booking service, which was subsequently acquired by Ola Cabs. Apart from Koo App in Hindi, one can find multiple Indian languages on the social media site, including Hindi, Kannada, Bengali, Tamil, Marathi, Punjabi, Telugu, Oriya, Assamese, Malayalam, and Gujarati.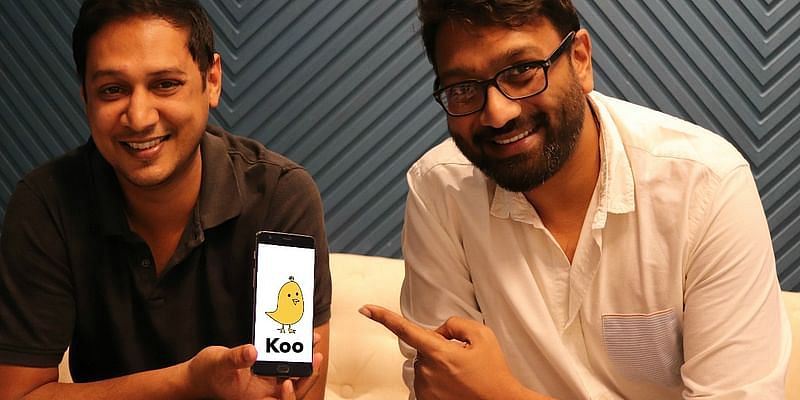 Earlier, Bombinate Technologies Pvt Ltd, the parent company of Koo had launched the Indian version of Quora called Vokal. Talking about the fundings, Blume Ventures, Kalaari Capital and Accel Partners were the major contributors in its Series A funding in 2018.
The rise of Koo: an Indian version of Twitter
Although the app was launched in early 2020, it came into limelight after winning of the government's Atmanirbhar App Innovation Challenge. Even PM Modi has mentioned this achievement by the app in his Mann Ki Baat. Recently, several politicians, including Commerce Minister Piyush Goyal, Law & IT Minister Ravi Shankar Prasad, Members of Parliament Tejasvi Surya and Shobha Karandlaje, Karnataka CM BS Yediyurappa have joined Koo App.
Other prominent accounts on Koo App include Isha Foundation's Jaggi Vasudev, media outlet News18, former cricketer Anil Kumble, etc. In addition, you can find official accounts of the Ministry of Information & Technology, India Post and the Niti Aayog on Koo App.
Why the Modi Government is promoting Koo App?
Currently, the Modi Government is involved in a tussle with the American microblogging site Twitter over controlling people's opinion. Centre wants Twitter to block certain accounts, including those of journalists and news sites that are critical to the government. But the social media platform cites the idea of free speech for not doing so. 
In recent times, we have seen several ministers and departments of the Union government flocking on the India-made Koo App, which is being promoted as an Atmanirbhar Bharat's social media platform.
Promoting Koo App might just be a message to Twitter, which doesn't want to comply with the Indian government in silencing voices, thinks experts. Many believe that it's a tactical step to threaten Twitter by the government of India that doesn't like dissent.
Significance of top politicians joining Koo App
There is hardly any doubt over government's firmness in pushing an alternative to Twitter. This is boosted by the fact that several union ministers, chief ministers, and other politicians are putting their weight behind the Indian microblogging site.
The timing of this is very important, since it has come at a time when Twitter has not responded favourably to the Modi government's demands. Earlier, the Ministry of Information and Technology has said that Twitter is just an intermediary. The government also stated that social media sites "are obliged to obey the directions of the government. Refusal to do so will invite penal action".
Keep visiting The Ganga Times for such interesting news, Bihar News, India News, and World News. Follow us on Facebook, Twitter, and Instagram for regular updates.