Mimi movie review: Mimi is a fine piece, portraying motherly love in a slightly different way. Kriti Sanon came out of her just sexy shadow and tries to be an incredible contender of emotional roles in the years to come. Pankaj Tripathi does what he usually does — being brilliant. Mimi kaisi movie hai?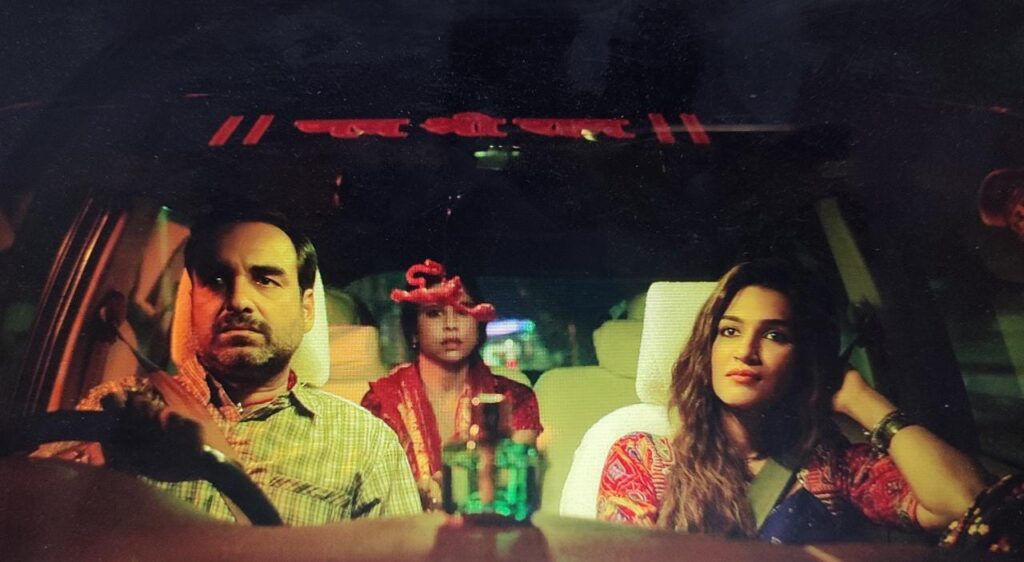 Laxman Utekar's Mimi released four days earlier amid reports of online leak. The film was supposed to release on July 30 but started streaming on the Netflix and Jio Cinema from 6:30 pm on July 26. During an Instagram interaction on Monday evening, Mimi's team announced the instant release of the film in honour of Kriti Sanon's birthday on July 27.
Featuring Kriti Sanon and Pankaj Tripathi in lead roles, the movie is a surrogacy drama — one of the first of its kind. During an interview with the Indian Express, director Laxman Utekar gave a few clues about the film. He stated, "This film is an emotional journey of two mothers and Bhanu. We are not trying to break any taboo. It is a tale told very humorously. But it does explain surrogacy in a basic language."
Mimi Cast
Kriti Sanon as Mimi Rathore
Pankaj Tripathi as Bhanupratap Pandey
Sai Tamhankar as Shama — Mimi's best friend
Manoj Pahwa as Mansingh Rathore (Mimi's father)
Supriya Pathak as Mimi's mother
Evelyn Edwards as Summer
Aidan Whytock as John
Jaya Bhattacharya as Doctor
Mimi's Plot
The film is a story of a surrogate mother, played by Kriti Sanon. Mimi works in a five star hotel as a traditional dancer near Jaipur. She dreams of becoming a Bollywood actress some day. One day, a driver, Bhanu Pratap Pandey (Pankaj Tripathi) comes with a proposal that an American couple, John (Aidan Whytock) and Summer (Evelyn Edwards) want to hire Mimi as a surrogate mother. They are also willing to pay her 20 lakhs for this, because of which Mimi agrees. She kept her parents into darkness about this and goes to stay with her friend Shama (Sai Tamhankar).
One day the doctor (Jaya Bhattacharya) suggested that the baby might be abnormal. John and Summer run away. Mimi's parents come to know about her pregnancy, creating ruckus in the family. She decides to keep the baby with support of her family. However, after four years, John and Summer returns to claim the child (Jacob Smith).
Mimi Movie Review
Mimi's storyline runs on a linear plane with some ditches in between. It is a mixture of comedy and emotion. A close to perfect motherly drama, Mimi kept the audience intact with the story. The first half is complete comedy bus, with Pankaj Tripathi as its rider. In the second half, Kriti showed her real avatar as a mother. She successfully tried to overcome the stamp of a hot and sexy diva, which she has been carrying since forever. Her emotional moments with her child and a few heart-rending moments in the end are the highlights of the movie.
Mimi tries to showcase a number of positive and negative aspects of Indian and the Western society. "Gora baccha, gora baccha! Bataiye kaise ubharega desh rangbhed se?" — Pankaj Tripathi effortlessly gives a strong message. Manoj Pahwa also looks good in the film with his comedy.
The film also points towards another major lesser-talked issue in our society — foeticide. Kriti Sanon makes some real impact with her dialogue, "Pata hai maine kya mahsoos kiya hai doctor? Baccha to andar bhi jinda rahta hai, bada hota hai, saans leta h, khata hai, haath-pair chalaata hai. Mujhe to lagta hai hamari baatein bhi sunta hai. Fir use bahar maarna galat aur andar maarna sahi! Aisa kyu? Use andar hi kyu nahi apna lete log – Jaisa bhi ho, baccha to baccha hai na?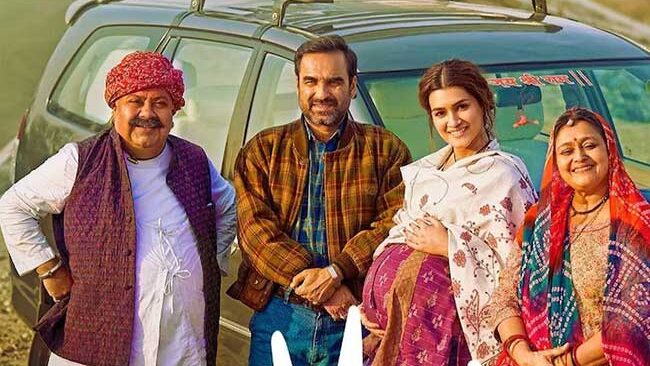 Mimi Review: What it lacks
Being a comedy drama, Mimi is good. However, it can easily be categorised as an improbable movie. The acceptance of a range of a daughter's mistakes quite easily doesn't seem to be digestible. It seems, the director tries to portray positivity, fearing backlash by extremist groups. Supriya Pathak's platitudinous character doesn't justify her true calibre. Same can be said about Sai Tamhankar, who however got some impactful dialogues.
The Ganga Times Rating: 3.5/5
Keep visiting The Ganga Times for Bihar News, India News, and World News. Follow us on Facebook, Twitter, and Instagram for regular updates.