Kathmandu is a vibrant city full of culture and history. With its magnificent temples, vibrant culture, stunning mountain views, and lush forests, there are many places to visit in Kathmandu for everyone.
Whether you are a nature lover, a culture enthusiast, or an adventurer, Kathmandu has something for you. Kathmandu is the gateway to Nepal and is a fascinating city in its own right. There's a great deal to see and do in Kathmandu, from historical temples to bustling markets. Here are our top seven picks for the best places to visit in Kathmandu.
List of 7 Best Tourist Places to Visit in Kathmandu
1. Boudhanath Stupa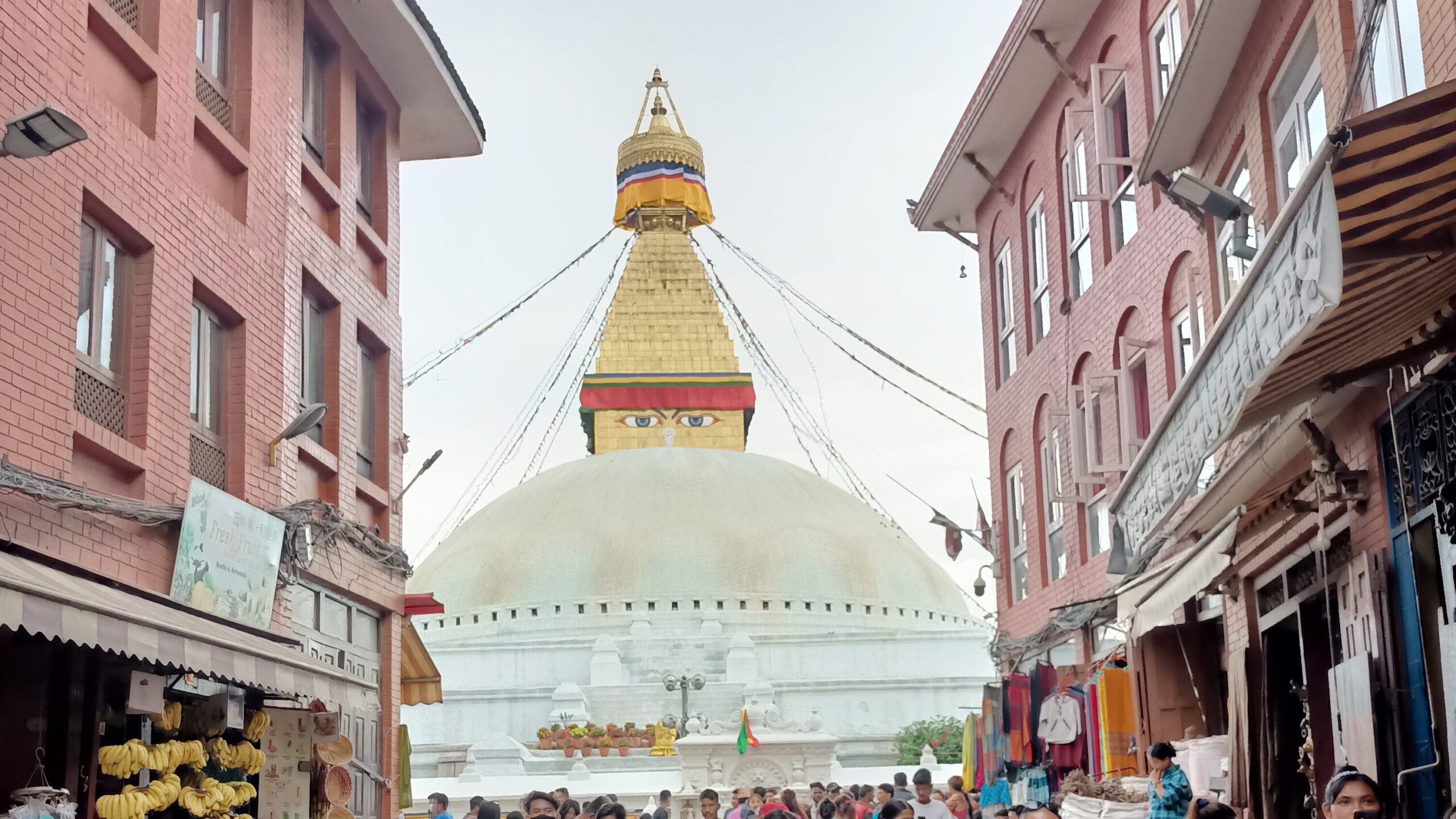 Start your exploration of Kathmandu with a visit to the Boudhanath Stupa. This iconic Buddhist monument is one of the largest in the world, and it's a popular spot for pilgrims and tourists alike. The stupa is an important religious site, but it's also a beautiful example of Nepalese architecture. There are no entry fees for this place if you are from Nepal. If you are from any other country, you must pay entry fees.
The stupa stands 36 meters high and is topped with a large golden spire. It has three main levels: the base, the terrace, and the spire. Each level is decorated with unique Buddhist designs and symbols that represent various aspects of Buddhism. This is one of the most visited and best places to visit in Kathmandu.
You can explore the grounds of the stupa, and there are plenty of shops and restaurants in the surrounding area. Be sure to take some time to wander around and soak up the culture and atmosphere. So, don't forget to add it to your list of places to visit when travelling to Nepal!
2. Pashupatinath Temple
The Pashupatinath Temple is a Hindu temple on the banks of the Bagmati River in Kathmandu, Nepal. It is dedicated to Pashupati, the most important temple in Nepal and one of the most important in Hinduism. Pashupatinath Temple is the most visited tourist place in Kathmandu. Photography is not allowed inside the Pashupatinath Temple, so do not try to click any images; otherwise, the temple authority will take your mobile or camera. Pashupatinath Temple is open for a limited time in the morning and evening, so plan your tour accordingly.
You'll find the temple on the banks of the Bagmati River, just a few kilometres from downtown Kathmandu. The temple complex is huge, and it's easy to spend an hour or more exploring all shrines and temples. Be sure to take off your shoes before entering the complex—it's considered disrespectful to walk on holy ground with your shoes on. Pashupatinath Temple must be on your list if you search for places to visit in Kathmandu.
3. Swayambhunath Temple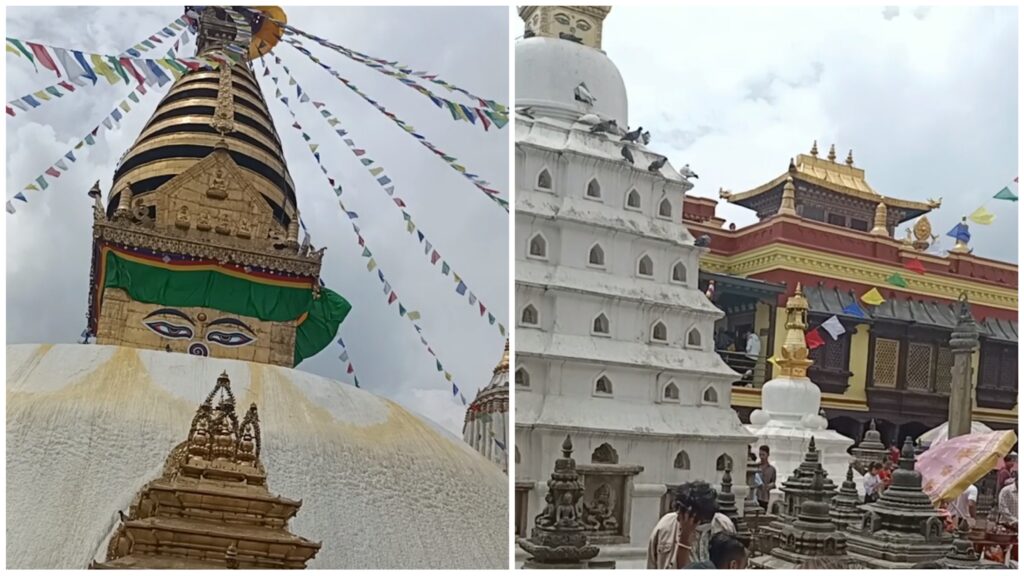 One of the most iconic sites in Kathmandu is the Swayambhunath Temple, also known as the "Monkey Temple." Located atop a hill in the Kathmandu Valley, this ancient temple has been a pilgrimage site for hundreds of years. Its unique history and stunning architecture make it a must-see destination when visiting Nepal.
The main feature of the temple is the four-sided golden spire at the centre, which is surrounded by an array of prayer wheels, monuments, shrines, and colourful prayer flags. The temple grounds are also home to dozens of resident monkeys, making this a great place for visitors to take photos or just relax and enjoy the peaceful atmosphere.
As one of the most sacred places in Kathmandu, Swayambhunath Temple is a popular destination for both local and international visitors. It's a great place to learn about Nepal's culture, history, and religious customs, while also taking in some breathtaking views.
It's a great place to visit for a bit of peace and quiet, and it's a really beautiful temple. Be prepared to do a lot of walking up and down steps, though—it can be quite a hike!
4. Kopan Monastery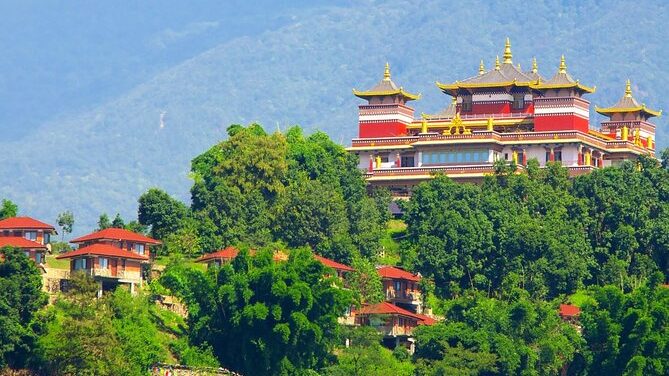 If you're interested in Tibetan culture, then Kopan Monastery is one of the must places to visit in Kathmandu. Located just outside of Kathmandu, this monastery is home to over 300 monks and is a centre for the study of Tibetan Buddhism.
The monastery was founded in 1972 by two Tibetan refugees and has since become one of the most important centres for the preservation of Tibetan culture and religion. If you're lucky, you might even get to see a Tibetan lama giving teaching.
Kopan Monastery is also home to a beautiful garden, which is the perfect place to relax and take in the peaceful surroundings.
5. Thamel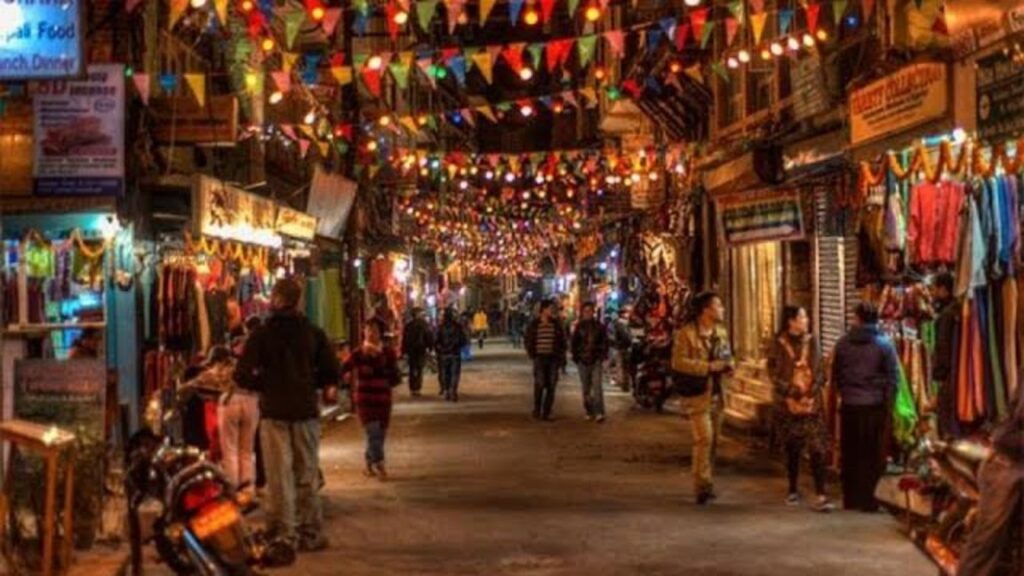 Thamel is the tourist district of Kathmandu and is where you'll find most of the hotels, restaurants, and shops. This is also the best place to stock up on trekking gear if you're planning on doing any hiking while you're in Nepal.
There are plenty of souvenir shops selling all sorts of trinkets, as well as Tibetan carpets and jewellery. You can also find Nepali handicrafts such as wood carvings, metalwork, and pottery. Thamel is one of the best places to visit in Kathmandu for nightlife and late-night hangouts.
If you're looking for a meal, there are plenty of restaurants to choose from, serving both Nepali and international cuisine. There are also plenty of bars if you want to enjoy a drink or two. Thamel is a great place to wander around and do some shopping, and it's also incredibly convenient if you're staying in one of the hotels here.
6. Durbar Square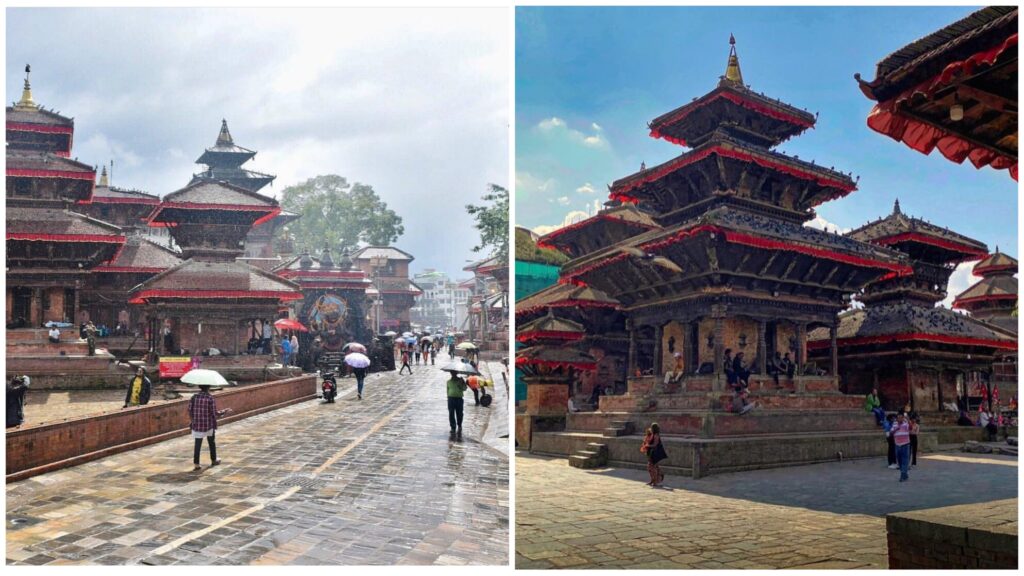 No trip to Kathmandu would be complete without a visit to Durbar Square. Located in the heart of the city, this ancient palace complex is home to some of the most spectacular architecture in Nepal. It was the centre of Nepal's old royal palaces, and its narrow lanes are full of colourful bazaars, shrines, temples and other sites that make it a must-see for any visitor.
Durbar Square is home to numerous temples and palaces, including the Hanuman Dhoka Palace Complex and the Taleju Temple. You can also find the Kumari Bahal, an old building housing a living goddess. The majestic architecture of these buildings makes Durbar Square one of the most impressive places in Kathmandu.
When you walk through Durbar Square, you'll find yourself surrounded by intricately carved wooden windows, doorways and balconies. There are many statues of various gods and goddesses throughout the complex, each with its own unique history and story to tell.
The atmosphere of Durbar Square is truly unique, and there is something special about taking in the sights and sounds of this area. Whether you're looking for an educational experience or simply want to soak in the atmosphere, Durbar Square will definitely be an unforgettable experience for anyone visiting Kathmandu.
7. Garden of Dreams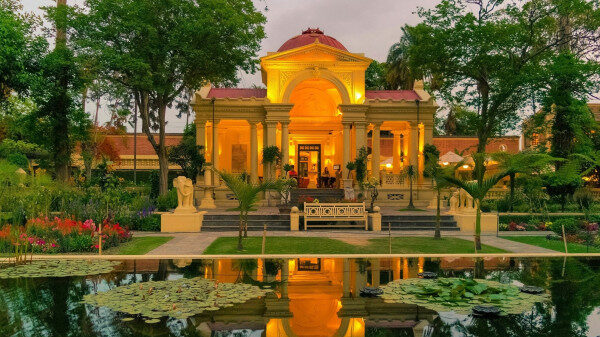 The Garden of Dreams is one of the top places to visit in Kathmandu, Nepal. Built-in early 1920, this neoclassical-style garden offers a tranquil respite from the hustle and bustle of the city.
The Garden of Dreams is a six-acre garden featuring serene pathways, stone benches, manicured lawns, and meticulously maintained trees and flowers. It also features a neoclassical pavilion known as "The Pavilion" and a selection of architectural features such as pergolas, colonnades, fountains, and sculptures.
Visitors to The Garden of Dreams can take a peaceful stroll along the paths, take in the magnificent views, relax on the stone benches, or even enjoy a light meal. There is also a series of monthly events held at the garden, including open-air concerts, art exhibitions, and theatrical performances.
In addition to the beauty and tranquillity of the garden, it is also home to a variety of species of birds, butterflies, and other wildlife. Whether you're looking for some peace and quiet or a fun activity to do with your friends and family, The Garden of Dreams is definitely worth visiting when in Kathmandu.
Conclusion
Kathmandu is a magical city full of breathtaking sites and unforgettable experiences. From its ancient temples and vibrant culture to its lively streets and bustling markets, this city is sure to captivate and inspire any traveller. Whether you're looking for an adventure-filled trek, a spiritual pilgrimage, or simply to take in the beauty of the Himalayas, Kathmandu has something for everyone.
So there you have it: our top seven picks for the best places to visit in Kathmandu. We hope you get to see all of them during your stay in the city.
Keep visiting The Ganga Times for such beautiful articles. Follow us on Facebook, Twitter, Instagram, and Koo for regular updates.