Let's know about the best schools in Bhagalpur, Bihar. Explore these educational centers, if you are searching for the best schools in Bhagalpur.
On the southern banks of the Ganges River in the Indian state of Bihar, Bhagalpur is an important historical city. In terms of knowledge and culture, it is a vibrant city. The third-largest city in Bihar, Bhagalpur is also referred to as the "Silk City".
The city has been mentioned in Indian mythological stories like the Mahabharata and the Ramayana, where it is referred to as the Kingdom of Anga. The historical Vikramshila University, established by King Dharmapala of the Pala dynasty in Antichak in the Bhagalpur district of Bihar, was one such center of study that drew academics from all across India as well as foreign nations. Knowing good schools nowadays in a city with a strong educational tradition is essential. Your entire list of questions about the top schools in Bhagalpur will be answered in this post.
Top 10 Best Schools in Bhagalpur
Mount Assisi School
St. Joseph's School
Delhi Public School
DAV Public School
Mount Carmel School
Navyug Vidyalaya
St. Teressa School
SKP Vidya Vihar
AD Saraswati Vidya Mandir
St. Paul School
Top 10 Best Schools in Bhagalpur
1. Mount Assisi School
Mount Assisi School is a CISCE-affiliated school and was established in 1972 by Franciscan friars. School is an English Medium coed School situated in Bhagalpur, Bihar, India. According to various criteria for evaluating educational excellence, including academic standing, extracurricular offerings, teacher welfare and development, sports education, individualized attention for students, life skills, infrastructure availability, and leadership/management quality, it is regarded as one of Bihar's top institutions.
The school was divided into a Junior Section (Nursery to Class V), which is situated nearby the Badi Post office, and Senior Section (Class Nursery to 12th), which is located on the new site.
Address: Junior Section- 13, Mahatma Gandhi Road, near Big Post Office, Bhikhanpur, Bhagalpur, Bihar 812001
Senior Section- Ranitalab, Ganga Vihar Colony, Shanti Colony, Fatehpur, Bihar – 813233
2. St. Joseph's School
For the education of boys and girls up to the higher secondary school level, the Catholic Diocese of Bhagalpur founded St. Joseph's School, an English medium school. It is affiliated with New Delhi's Council for Indian School Certificate Examinations. The school continuously works to focus all coursework and co-curricular activities towards such a goal with a focus on self-discipline, character development, and individualism.
Address: Bariarpur Road, T. N. B. College, Bhagalpur, Bihar – 812002
3. Delhi Public School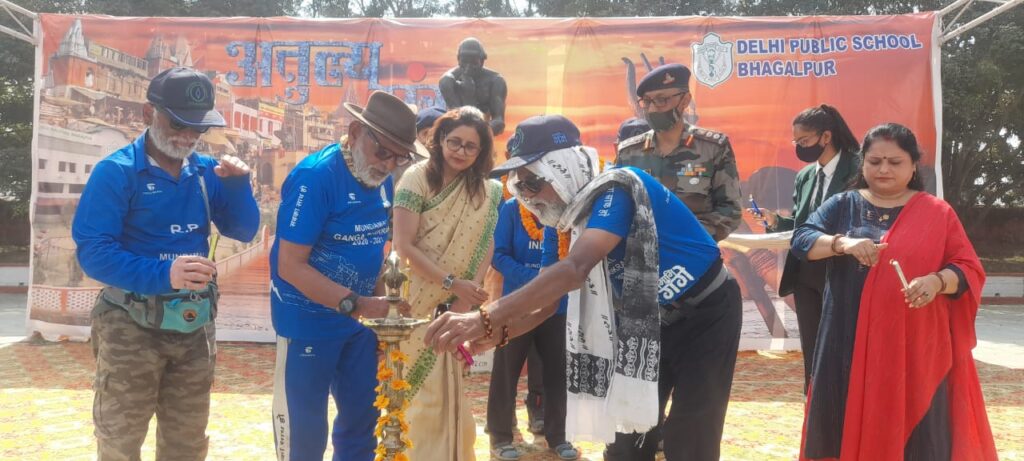 Delhi Public School is alternatively also known as DPS, affiliated with the Central Board of Secondary Education (CBSE). The school is located in the Deekshapuram area of Bhagalpur and it was established in 2007. The School is a Coed Day Cum Boarding School, with classes from Nursery to XII. The whole management of the school is under the Delhi Public School Society and the Angika Development Society.
Address: Deekshapuram, Sabour, NH 80, Bhagalpur, Bihar – 813210
4. DAV Public School
In response to the region's residents' constant need, D.A.V. Public School, Bhagalpur, was founded in 2001. DAV is a Co-ed Day school affiliated with the CBSE (Central Board of Secondary Education) and managed by the Dav College Managing Committee. The school is committed to offering practical, child-centered education and has a team of highly motivated, committed, and qualified teachers. Through a thoughtful balance of academics, sports, and extracurricular activities, the school seeks to enhance each student's physical, mental, and spiritual development while also instilling values of patriotism and exposing them to India's rich cultural history.
Address: Barari Road, Barari, Bhagalpur, Bihar – 812003
5. Mount Carmel School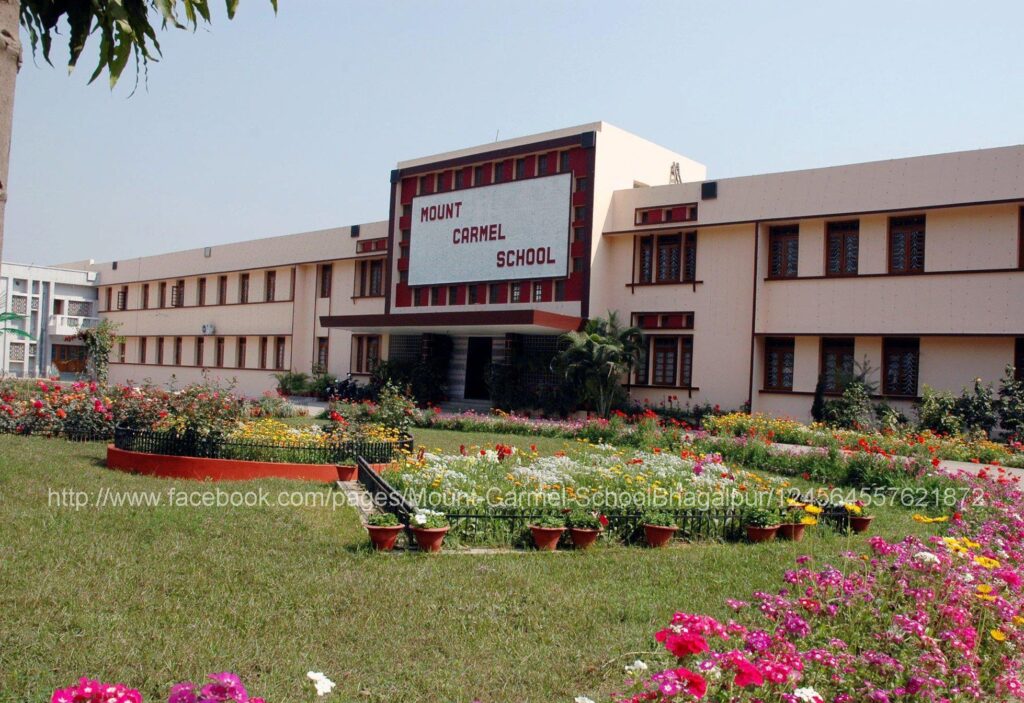 The Apostolic Carmel Educational Society is in charge of Mount Carmel School, which was founded in 1958. It is a school for only girls that is affiliated with the Council for Indian School Certificate Examinations (CISCE). The school also plans a wide range of events and activities for the students, including lectures, yoga competitions, olympiads, debates, discussions, creative writing contests, recitation competitions, sports days, Christmas festivals, annual days, extracurricular activities, and many others. Cricket, football, table tennis, basketball, chess, and other games are available to students as sporting facilities.
Address: Barai Road, Barari, Bhagalpur – 812003
6. Navyug Vidyalaya
Co-educational senior secondary school Navyug Vidyalaya is an English-medium institution affiliated with the CBSE and managed by Navyug Bala Kendra. It was established on August 3, 1945, and aims to provide an integrated education in a healthy, welcoming, and caring environment for a child's all-around development, including their physical, mental, intellectual, emotional, and social needs. It also prepares students to become ideal individuals and responsible citizens. One of the top schools in Bhagalpur, Navyug is known for providing top-notch teaching and maintaining high standards ever since it opened.
Address: 65, Radha Rani Sinha Rd, near Ashok, Adampur, Bhagalpur, Bihar – 812001
7. St. Teressa School
St Teresa's School is an English Medium, Co-education school affiliated with Council for Indian School Certificate Examinations (CISCE). The school was established by the members of the society of Teresian Carmelites in 1989. It is a registered society under Bihar Government with the title- "Gokhla Teresian Carmelite Society".
It is open to all and works with the motive to give a well-balanced integral and all-round development to young boys and girls by imparting an education that is morally, physically, and mentally sound. The school started its junior section from Adampur in 1989, and later it expanded to new structures in Aliganj and near Bypass.
Address: Junior Section – M.G Road, National Highway 80, Adampur, Bhagalpur, Bihar – 812001
Senior Section – Aliganj, SH 19, Bhagalpur, Bihar – 812005 & Bypass Road, Manikpur, Bhagalpur, Bihar – 812005
8. SKP Vidya Vihar
Shree Khublal Pramila Vidya Vihar, an English medium co-education senior secondary school has been established in 1996 by Late Brikodar Singh, the progenitor. It is situated in the heart of the city of Bhagalpur. The school is running under the aegis of Sri Khublal Pramila Charitable Trust, and the Vidyalaya Managing Committee. The school aims to make the students self-dependent, free-minded, courageous, and undaunting figures through and from Nursery to Senior Secondary (10+2) and pats them to participate in the congregation, library, mimic-plays, scholastic and co-scholastic, games and sports, yoga, cultural programs, group discussion, laboratory, and computer, etc.
Address: Mandoza, Station Road, Bhagalpur, Bihar – 812002
9. AD Saraswati Vidya Mandir
A coed institution connected to the Central Board of Secondary Education (CBSE) is Anandram Dhandhania Sarswati Vidya Mandir. The school officially opened its doors in 1994. Shishu Shiksha Prabandh Samiti oversees its whole management. From Nursery to Grade 10, the school has expanded into a prestigious educational facility, educating approximately 2600 students in both English and Semi-English.
Address: Bansi Jha Lane, Budhanath Road, Bhagalpur HO, Bhagalpur – 812001
10. St. Paul School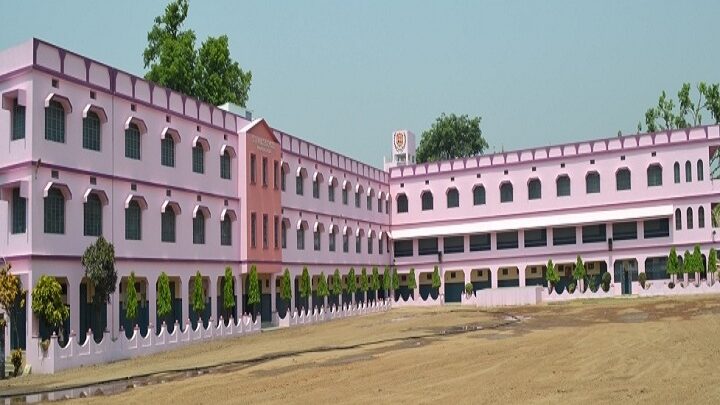 St. Paul's School is a co-ed minority Anglo-Indian Christian Institution affiliated with Council for Indian School Certificate Examinations (CISCE). The School has been founded by St. Paul's Anglo-Indian society. This society was founded mainly for the education and cultural upbringing of Anglo-Indian Christian children, and it welcomes every toddler.
Address: Fort House, Champanagar, Bhagalpur, Bihar – 812004
It would be impossible to mention all of the schools in Bhagalpur that offer high-quality education and all current facilities. But in this article, we tried to cover all the top 10 best schools in Bhagalpur. Let us know if you have other schools in mind on our social media sites.
Keep visiting The Ganga Times for such beautiful articles. Follow us on Facebook, Twitter, Instagram, Tumblr, and Koo for regular updates.