Acknowledging India's assistance to America during early stages of the COVID-19 pandemic, President Joe Biden has said US is 'determined' to help India in the time of crisis. This has been possible after NSA Ajit Doval's call to his American counterpart Jack Sullivan.
After initial masquerading, US has finally agreed to export raw materials for COVID-19 vaccines to India. US President Joe Biden, on Sunday, has said Washington is "determined" to help India in the time of its crisis.
"Just as India sent assistance to the United States as our hospitals were strained early in the pandemic, we are determined to help India in its time of need," Biden said in a tweet.
Role of NSA Ajit Doval
India's National Security Advisor Ajit Doval is credited with the US' decision to resume export of vaccine raw materials. He had a phone call with his American counterpart Jake Sullivan on Sunday, during which the US assured delivery of assistance in 48 hours. This immediate supply of raw materials will be extremely helpful in ramping up the production of Covid vaccines in India.
Meanwhile, US Vice President Kamala Harris also tweeted in support of India's need, " The U.S. is working closely with the Indian government to rapidly deploy additional support and supplies during an alarming COVID-19 outbreak."
After Doval's call to Sullivan, America's National Security Council released a statement, saying that US is working around the clock to deploy available resources and supplies. "To help treat COVID-19 patients and protect front-line health workers in India, the United States has identified supplies of therapeutics, rapid diagnostic test kits, ventilators, and Personal Protective Equipment (PPE) that will immediately be made available for India. The United States also is pursuing options to provide oxygen generation and related supplies on an urgent basis," reads the statement.
In April 2020, India exported Hydroxychloroquine and Paracetamol to the US and 86 other countries during the first wave of Corona.
Public pressure behind the US
It is believed that the reason behind US agreeing to export COVID vaccine raw materials is the huge public pressure from not only India but also from across the world. The United States had to face huge criticism when it blocked the export of raw materials to India. On of the top trends in India was #BoycottAmerica Twitter and other social media in India.
Adar Poonawalla, CEO of Seerum Institute of India had also tweeted on 16th April, demanding to lift ban on raw material exports. He urged Joe Biden to "lift the embargo of raw material exports out of the US so that vaccine production can ramp up."
The China Angle
Even duing the pandemic, China has not stopped playing the game of geopolitics. The Communist Party of China's mouthpiece Global Times tried to spread antagonism between Indian and the US by calling the latter a selfish and unreliable partner. The Global Times headline reads, "US slammed for 'selfish,' 'indifferent' response to India's call for help amid devastating COVID-19 crisis". This might also have played a key role in the US acting instantly to India's request.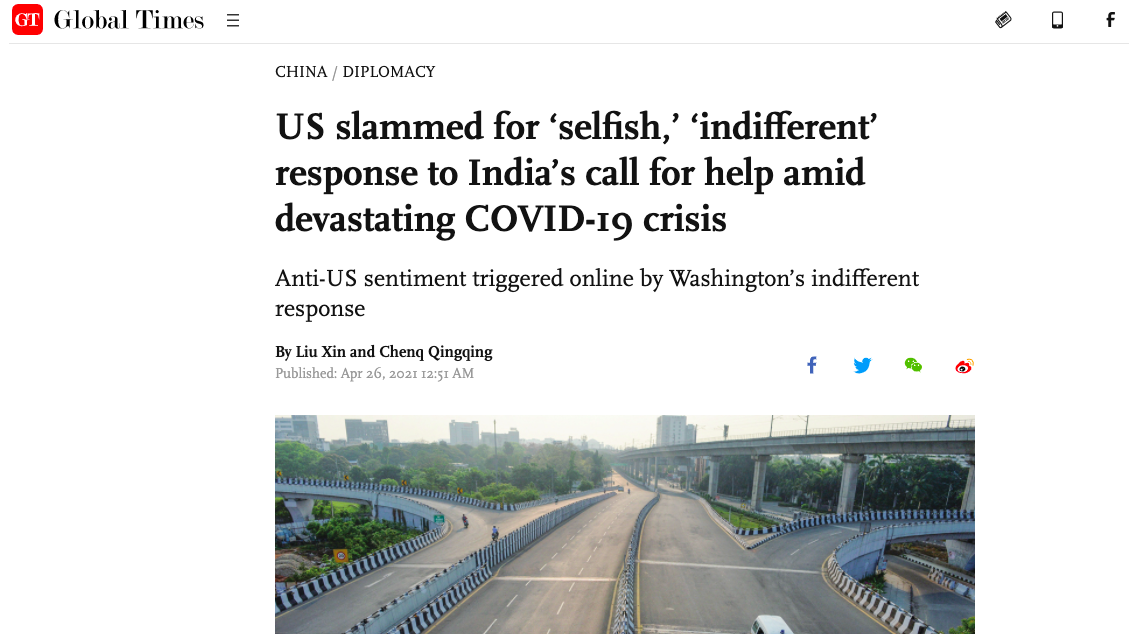 India also exports raw materials for US vaccines
One of the very unknown facts that not many talks about is that an Indian Biopharmaceutical firm VAV Lifesciences has signed an agreement with America's Pfizer and Modern to supply phospholipids, which is an important ingredient in the mRNA-based COVID-19 vaccines. It must have been in the US policymakers' mind while deciding whether or not to export COVID-19 raw materials to India.
Keep visiting The Ganga Times for Bihar News, India News, and World News. Follow us on Facebook, Twitter, and Instagram for regular updates.