Alappuzha First Vande Bharat Express, which will be Kerala's second Vande Bharat Train, will likely start next week on Sunday, 24 September 2023.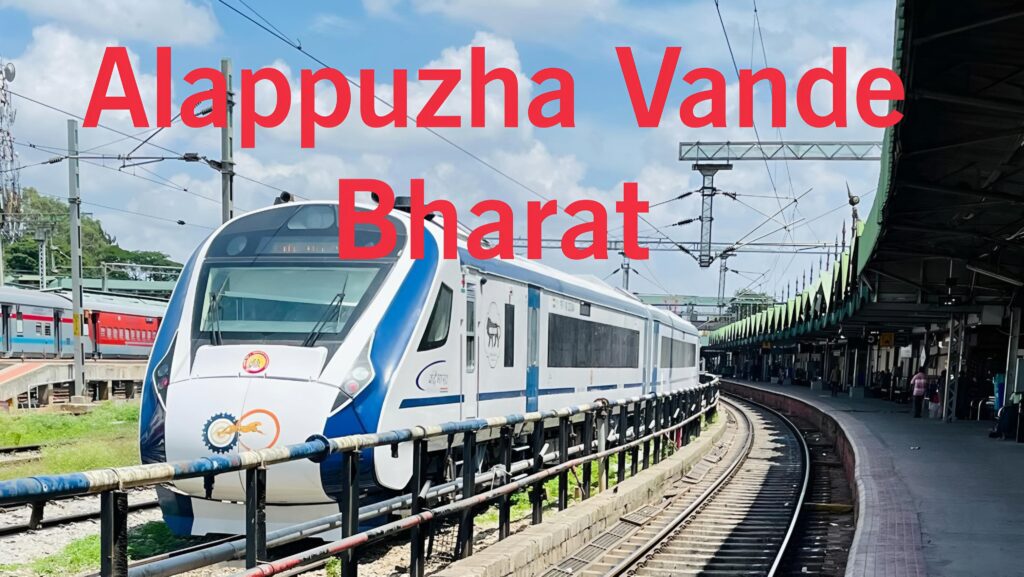 Alappuzha, also known as Alleppey, is a picturesque town in the southern Indian state of Kerala. Alappuzha is one of the most famous towns in Kerala for tourists. It is renowned for its enchanting backwaters, serene beaches, and lush paddy fields. Often called the "Venice of the East," Alappuzha is a popular destination for houseboat cruises and cultural festivities. Alappuzha First Vande Bharat Express will increase tourism in Alappuzha.
Alappuzha, the oldest planned city in its region, lies 55 km from Kochi and 155 km north of Thiruvananthapuram. It enjoys excellent connectivity through the Ernakulam–Kayamkulam coastal railway line, offering links to major cities like Trivandrum, Kollam, Cochin, Coimbatore, Chennai, Delhi, Bokaro, and Mumbai. The city's railway station is conveniently situated about 4 kilometres from its heart.
Read Also: Kasaragod Second Vande Bharat Will Connect These Cities (gangatimes.com)
Alappuzha First Vande Bharat Express Route
Alappuzha First Vande Bharat express route will cover a distance of 573 Kilometers between Kasaragod and Thiruvananthapuram. Currently, the fastest train between Alappuzha and Kasaragod is Nethravathi Express, which takes 8 hours and 20 min to cover a distance of 440 km between Alappuzha and Kasaragod.
Alappuzha First Vande Bharat Express Stoppages
Alappuzha Vande Bharat Express train will stop at Kannur, Kozhikode, Shoranur Junction, Thrissur, Ernakulam Town, Alappuzha and Kollam Junction between Kasaragod and Thiruvananthapuram Central. First, Vande Bharat Train of Alappuzha has given nine stoppages so that the maximum district of Kerala gets benefited.
When Will Alappuzha First Vande Bharat Start?
Prime Minister Narendra Modi will flag off the Alappuzha First Vande Bharat Express service via Video conferencing from New Delhi on 24 September 2023.
Keep visiting The Ganga Times for such beautiful articles. Follow us on Google News, Facebook, Twitter, Instagram, and Koo for regular updates.